11/2/2016
US Senator Takes On Rental Car Toll Road Convenience Fees
US senator asks the Federal Trade Commission to investigate excessive convenience fees charged to rental car users on toll roads.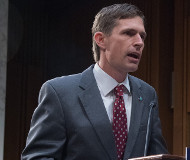 Capitol Hill has taken notice of the high fees being charged to toll road using rental car customers. In a letter Friday, US Senator Martin Heinrich (D-NM) called for a formal inquiry into the potentially "unfair and deceptive business practices" underlying the surprise bills that many rental car users receive after taking a trip on a toll road. Hertz customers, for instance, filed a lawsuit after they had $10.75 automatically billed to their credit card account to cover a 75 cent toll. A renter who made a single, one-way trip across the Golden Gate Bridge had to pay $32.

"It is unreasonable to be charged a 'convenience' fee that would exceed the cost of the toll, but many consumers are being charged far more in convenience fees than they are incurring in actual tolls -- often without any knowledge that these extra fees may be applied," Heinrich wrote in his letter to Federal Trade Commission (FTC) Chairman Edith Ramirez.

After learning of the controversy in a recent Washington Post article, Heinrich expressed concern that New Mexico residents unfamiliar with toll roads were being tricked into overpaying.

"These exorbitant fees are also increasingly being levied on unsuspecting consumers whose navigation aids automatically guide them onto toll roads that only accept license plate reading payments, preventing them from being able to pay the toll in person," Heinrich wrote. "Cameras at the toll station automatically record when a vehicle passes through the station and charge the account associated with the license plate. Rental car companies then forward the charge for the toll to the unaware renter, with extremely high fees attached for the 'convenience' of using the only toll-paying option available."

The senator's concerns were shared by a federal judge who approved a settlement three years ago that forced Hertz and PlatePass, the toll collection system run by American Traffic Solutions, to pay $15 million in compensation to car renters hit with convenience fees between 2006 and 2010 (view settlement). Not much has changed since then as Hertz continues to impose up to $24.75 in "convenience fees."

"I request that FTC investigate the extent of the use of these fees across the industry, and report on measures that the industry can take to make sure that these fees are reasonably priced, adequately disclosed and understood by consumers before renting a car," Heinrich wrote.

A copy of Heinrich's letter is available in a 300k PDF file at the source link below.