1/27/2016
Jury Delivers Guilty Verdict In Redflex Bribery Trial
Former Chicago, Illinois official convicted of taking bribes from Redflex Traffic Systems of Australia.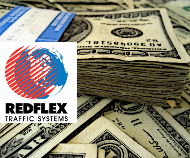 A jury on Tuesday found John Bills guilty of taking bribes from Redflex Traffic Systems. The former deputy head of the Chicago, Illinois transportation department abused his position to fill his pockets with cash from the Australian firm in return for his help in expanding the Windy City's red light camera program into the largest of its kind. The federal jury unanimously found Bills guilty on all counts.

Bills refused to plead guilty and turn states evidence, as bagman Martin O'Malley and Redflex executives Aaron M. Rosenberg and Karen Finley did. Instead, Bills played an odd defensive strategy that hoped to convince jurors that federal prosecutors failed to prove his involvement in the corruption beyond a reasonable doubt.

"If a defendant performed acts that advanced a criminal activity but had no knowledge that a crime was committed or was about to be committed, those acts alone are not sufficient to establish the defendant's guilt," Bills attorney Nishay K. Sanan offered as his proposed instruction to the jury. "A person acts corruptly when that person acts with the understanding that something of value is to be offered or given to reward or influence him in connection with his official duties. A corrupt intent exists only if there is a specific quid pro quo for the public official to engage in a specific official act in exchange for something of value. Vague expectations of some future benefit are not sufficient to make a payment a bribe."

US Attorney Zachary T. Fardon countered with bank statements, receipts and other records showing Redflex handed $2 million to O'Malley which was doled out to Bills in the form of $643,000 in cash, a condo in Arizona, trips, a Mercedes CLK320 convertible and other benefits. Fardon insisted that it was enough that Bills "influenced" the awarding of the contract to Redflex after accepting the financial benefits.

For its illicit $2 million investment, Redflex pocketed $124 million from Chicago's red light cameras. The Australian firm would have made even more from the city's speed camera contract had a whistleblower not tipped off the Chicago Tribune newspaper about the bribery scheme.

Bills is to be sentenced on May 5, while Redflex lobbyist John Raphael is scheduled to be sentenced on March 30 for facilitating bribes in Columbus, Ohio. Finley, meanwhile, was granted the court's permission to relax in Kauai, Hawaii from February 5 to February 17.