1/21/2016
Florida: Accidents Increase At Red Light Camera Locations
Florida report finds red light cameras generated $150 million in revenue along with a 15 percent increase in accidents.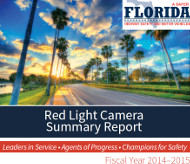 The Florida Department of Highway Safety and Motor Vehicles reports that accidents increased at intersections where red light cameras are in use. State law requires the agency to monitor the performance of automated ticketing machines and submit an annual report on its findings.

This year's audit is the first to include an independent analysis of crashes. It found that accidents increased 15 percent overall at red light camera intersections after the devices were installed. These were not minor fender benders, as the number of incapacitating injuries jumped 29 percent, and there were two additional fatal collisions. Crashes involving pedestrians and bicyclists jumped 17 percent at camera locations. Officials were quick to caution that other factors besides the cameras may account for the negative result.

"The probability of a crash occurring increases as people drive more, and daily vehicle miles traveled in Florida increased 4.7 percent from 2011 to 2014," the report explained. "The crash analysis should be put into context of the overall complexity of the issue at hand, as other factors may contribute to the change in number of crashes outlined in this report."

Seventy-one cities and counties in Florida use red light cameras which issued a total of 963,039 tickets worth over $150 million in fiscal year 2015. Of these, 253,744 tickets worth $40 million were issued for right hand turns on red, despite a state law that prohibits tickets for such turns made in a "careful and prudent manner."

Cities like Orlando, Tallahassee and West Park insisted that they judged the success or failure of their programs by whether or not the number of violations dropped. Statewide, there were 22,225 more tickets issued, even though 67 fewer red light cameras were in use. The number of operational cameras is expected to drop substantially as cities continue to dump red light camera programs.

Boca Raton, Campbellton, Cocoa beach, Coral Springs, Daytona Beach, Doral, Hallandale Beach, Holly Hill, Hollywood, Juno Beach, Kenneth City, Margate, North Miami, Oldsmar, St. Petersburg, Tallahassee, Temple Terrace and West Palm Beach told the state agency that they had either already stopped issuing tickets or would do so by year's end.

A copy of the report is available in a 1mb PDF file at the source link below.