8/28/2015
Study Shows Hybrids Are Not Improving US Fleet Mileage
Study shows average fuel economy for the US vehicle fleet has improved less than 1 MPG in 22 years.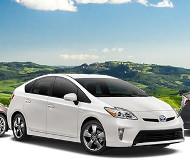 Supporters of toll roads insist that the gas tax can no longer be relied upon to fund roads because hybrid and electric automobiles are improving gas mileage so much that gas tax receipts are down. A study released last week by the University of Michigan Transportation Research Institute shows that, contrary to this assertion, the gas mileage of the US car and truck fleet has changed very little over the past two decades.

Researchers Michael Sivak and Brandon Schoettle pulled together data estimating the miles driven per gallon of fuel from 1923 to 2013. They divided the results into several distinct periods.

In the first, from 1923 through 1935, vehicles recorded a more or less constant 14 MPG. In 1936, fuel economy began a slide to 11.9 MPG in 1973, when the oil embargo struck. This sparked an emphasis on fuel economy that lasted until 1991, increasing to 16.9 MPG, representing a compound annual gain of 2.4 percent. In the current period, fuel economy for all vehicles rose to just 17.6 MPG by 2013 -- a compound annual gain of just 0.8 percent. Even excluding trucks and counting only automobiles, the average MPG has only risen 2.2 MPG in the past twenty-two years.

"One fundamental problem with improving the fuel economy of the entire on-road fleet is that improvements in fuel economy of new vehicles take a long time to substantially influence the fuel economy of the entire fleet," the report explained. "This is the case because it takes many years to turn over the fleet."

Most cars stay on the road for about 11 years, so new car sales only impact about 6.5 percent of the fleet annually.

The report also explained that there are diminishing returns from pushing higher and fuel economy targets. In a vehicle driven 12,000 miles each year, the researchers explained, only 7 gallons are saved annually by improving mileage from 40 to 41 MPG. By contrast, the savings of improving a 15 MPG car to 16 MPG represents 50 gallons.

"In other words, society has much more to gain from improving a car from 15 mpg to 16 mpg than from improving a car from 40 mpg to 41 mpg," the report explained.

The findings are backed up by the latest US Census Bureau figures which show gas tax receipts are not in decline, they are growing. The combined state and local gasoline tax revenue was $41,447,220 in 2012, a record high.