6/30/2015
Nebraska Supreme Court Declares Walmart Parking Lot A Public Highway
Nebraska high court says license suspension means no driving, even on private roads and parking lots.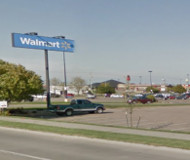 Nebraska's traffic laws can apply to private property, such as a Walmart parking lot, according to a ruling handed down Friday by the state's highest court. Justices were considering the case of Benjamin Frederick who was caught on December 31, 2012 driving in a superstore parking lot in Kearney while his license was revoked.

An officer who had been called to the Walmart location recognized Frederick and followed his car as it made its way through the aisles of the parking lot. Eventually, Frederick pulled into a parking space. Before hitting the lights on his squad car, the officer used his computer terminal to verify that Frederick was banned from driving until July 7, 2013 as a result of a driving under the influence of alcohol (DUI) conviction.

Frederick argued that his driving in a parking lot did not violate Nebraska Code Section 60-4,186, which prohibits driving on a "public highway" with a revoked license. The Walmart parking lot does not fall within the definition of a highway. Buffalo County District Court Judge John B. Icenogle ruled that a different law applied to Frederick, one than bans someone like him from driving anywhere in the state.

"It shall be unlawful for any person to operate a motor vehicle during any period that he or she is subject to a court order not to operate any motor vehicle for any purpose or during any period that his or her operator's license has been revoked or impounded pursuant to conviction or convictions for violation of any law or laws of this state, by an order of any court, or by an administrative order of the director," Nebraska Code Section 60-4, 108 states.

The justices agreed with the lower court that the "public highway" limitation of the one section of the law did not apply to the other, and that the provisions serve distinct purposes.

"Section 60-4,186 focuses on where the driving occurs, while Section 60-4,108 focuses on the period of time when the driving occurs," Justice Michael McCormack wrote for the high court. "Section 60-4,108 was plainly intended to have a broader application. If the legislature had wished to limit Section 60-4,108 to driving 'on the public highways,' it knew how to do so."

Frederick countered that it would be absurd to make it a crime to drive without a valid license in places where no license is required to drive. The high court did not agree.

"While an operator's license is not generally required to drive in Nebraska on privately owned parking lots, serious traffic offenses presenting an immediate danger to the public, such as reckless driving, careless driving, and DUI, are punishable offenses under the Nebraska Rules of the Road when committed in a parking lot open to public access," Justice McCormack wrote. "The Walmart parking lot was open to public access. It was a place where members of the public could be endangered by Frederick, who demonstrated through his prior DUI conviction that he is unable to safely exercise the privilege conferred by his operator's license."

The court ordered Frederick to be re-sentenced. A copy of the decision is available in a 190k PDF file at the source link below.