5/5/2015
Texas: Company Pays Outsiders To Campaign For Cameras
American Traffic Solutions front group pays $18 an hour to bus in support for red light cameras in Arlington, Texas.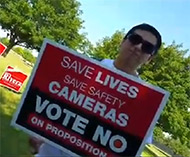 Early voters are already heading to the polls to decide the future of red light cameras in Arlington, Texas. A charter amendment on the May 9 ballot would ban photo enforcement, and city officials and their vendors are not happy about it. American Traffic Solutions (ATS) has spared no expense to ensure the measure fails, even busing in paid outsiders to influence voters on the way to the polling stations.

Through its various front groups, ATS hired the firm Extreme Marketing and Promotions to organize "Street Teams USA" contractors who are paid $18 an hour to create the appearance of local support for keeping the cameras. A little over half a dozen individuals, none of whom live in Arlington, signed up to hold pro-camera signs and talk to voters headed to polling stations.

The pro-camera team follows a strict dress and conduct code, and members must provide proof of activism before they can be paid. According to an email sent to contractors, they must wear a "casual/nice white shirt" and khaki pants or shorts that are "appropriate in length."

"Please look put together -- nicely done hair, etc," the email explained. "Please obtain at least five event photos and send them to Natasha@extrememp.com by Monday May 4th. These are mandatory! ... No frowns, no cell phone, no gum chewing."

The Arlington Tea Party's Kelly Canon confronted one of the pro-camera sign holders to ask about his motivation in campaigning on behalf of the cameras. She captured the conversation on video (view on YouTube).

"I don't live in Tarrant County," Edson, a paid pro-camera signholder, said. "I don't think that matters... I live in Plano."

After the interaction, Edson called Arlington Police, The officer who arrived on the scene briefly investigated the incident.

"Suffice to say, the nice policeman put the cry-baby in his place," Canon said. "Beautifully, I might add."

Canon is backed by nearly twenty unpaid volunteers, all of whom live in Arlington. Canon and her colleagues are working on principle, and she suggests it says a lot that the ballot measure's opponents are all on the ATS payroll.

"It says we're on the winning side of this issue, and that the city and camera vendors are desperate to keep their revenue stream open," Canon told TheNewspaper. "Their scam and revenue stream are about to come to an abrupt halt."

ATS has an uphill battle as the vote draws closer. Texans have voted them out at every opportunity in Conroe, Dayton, Houston, Baytown, League City and College Station.