3/3/2015
Federal Appeals Court Endorses Suspicionless Detention Of Air Force Officer
Fifth Circuit Court of Appeals blocks lawsuit against Border Patrol for detaining an Air Force major who asserted his rights.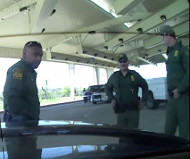 An Air Force major detained at a suspicionless roadblock five years ago will not be able to sue for damages. A sharply divided Fifth Circuit US Court of Appeals panel concluded on Thursday that Border Patrol agents could hold Major Richard Rynearson indefinitely simply because they did not care for his attitude.

Rynearson was driving to work on March 18, 2010 along Highway 90 in Uvalde, Texas, when he was stopped at an immigration roadblock set up 67 miles from the border with Mexico. Rynearson recorded the incident and posted in on YouTube (view video).

Although Rynearson offered his passport and other identification to establish his citizenship, the Border Patrol agents were annoyed that the officer refused to get out of his vehicle or roll down his window fully on their command. After 34 minutes, Rynearson was released, but the agent in charge of the station sent a letter to Lt. Colonel Richard L. Nesmith, Rynearson's commanding officer, in retaliation for the major's refusal to roll down his window. Rynearson agued his Fourth Amendment right to be free from unreasonable seizure had been violated. The panel majority disagreed, calling Rynearson's assertion of his rights an 'unorthodox tactic.'

"We have not discovered nor been shown any authority supporting Rynearson's claim that the constitutional rights he chose to stand on were clearly established," Judges Thomas Morrow Reavley and Leslie H. Southwick wrote. "Accordingly, we conclude that these governmental officials, at worst, made reasonable but mistaken judgments when presented with an unusually uncooperative person, unusual at least in the facts described in any of the caselaw. Because we hold that no constitutional right of which all reasonable officers would have known was violated, we need not consider whether Rynearson actually had some limited Fourth Amendment right to refuse to cooperate."

Judge Jennifer Walker Elrod, who had slammed the Border Patrol's conduct during oral arguments in the case last year, filed a dissent blasting her colleagues for mischaracterizing the nature of the stop.

"While he provided the information needed to prove his citizenship, Rynearson explained several times that he would not indulge the officers' commands when he thought that they exceeded the limited scope of the immigration checkpoint inquiry," Judge Elrod wrote. "Standing on one's rights is not an 'unorthodox tactic.' It is a venerable American tradition."

She pointed out that under US Supreme Court precedent, the border roadblocks are specifically limited to asking motorists "a brief question or two" regarding their citizenship status.

"One cannot escape the impression that Agent Lands's refusal to look at the passports and Agent Perez's irrelevant phone calls to Rynearson's employer operated as retribution against Rynearson for asserting his rights," Judge Elrod concluded. "Agents Lands and Perez failed to demonstrate their entitlement to qualified immunity because the law is clearly established that immigration officials may not detain travelers longer than reasonably necessary to investigate their citizenship status."

Rynearson has not yet decided whether he will appeal the ruling.

"I am disappointed by the decision and I am considering my options for further review," he told TheNewspaper.

A copy of the ruling is available in a 250k PDF file at the source link below.