10/27/2014
Analysis: Guilty Plea Spells Trouble For Redflex In Corruption Trial
Redflex faces uphill battle as guilty plea entered in federal red light camera bribery trial in Chicago, Illinois.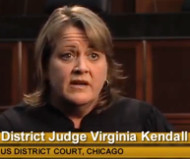 Redflex Traffic Systems, the embattled Australian photo ticketing company, faces an uphill battle maintaining its innocence now that a key party is turning state's evidence. On Wednesday, Martin O'Malley notified US District Judge Virgina M. Kendall that he would change his plea from not guilty to guilty at a December 10 hearing in the Chicago, Illinois red light camera bribery case.

O'Malley, a Redflex contractor, was a friend of John Bills, the Chicago official in charge of the nation's most profitable photo enforcement program. According to prosecutors, O'Malley leveraged his relationship to transfer $2 million from Redflex to Bills in return for landing and expanding the lucrative contract that ultimately earned the Australian company $126 million. O'Malley worked for Karen Finley, the head of US operations for Redflex.

O'Malley's guilty plea changes the dynamic of the trial for Finley and Bills, each of whom entered not guilty pleas at a September 10 hearing on various counts of taking and giving bribes. Filing charges is easy, but proving beyond a reasonable doubt that a company gave gifts to a public official in return for favorable treatment is exceedingly difficult. In a similar bribery case in Edmonton, Canada in 2008, a judge dismissed charges against police officers who accepted hockey tickets, trips and additional services from an Affiliated Computer Services (ACS, now Xerox) in return for awarding a $90 million no-bid contract.

Unlike in Edmonton, there are now individuals directly involved who admit to bribery. O'Malley presumably will join former Redflex Executive Vice President Aaron M. Rosenberg in testifying, as Rosenberg has already admitted he bribed public officials in a dozen states at Finley's request.

Judge Kendall, an appointee of President George W. Bush, is not likely to give a sympathetic ear to individuals who take shortcuts in life.

"I grew up as the fourth out of five children in a big Irish Catholic family in Skokie, Illinois where all of us felt like we had enough, we never had too much, and we all just studied hard and that was expected," Judge Kendall said in a video profile. "As I was getting older and deciding what I wanted to do, I really wanted to be a journalism major, not a lawyer."

Judge Kendall dropped journalism and attended law school at night after having her fourth child. She spent ten years as a prosecutor, including time on the public corruption unit, before being appointed to the federal bench in 2006.

Bills and Finley may also find it difficult to maintain their innocence in light of sophisticated surveillance techniques used by the government, which US Attorney Zachary T. Fardon petitioned the court to keep concealed.

"The discovery to be provided by the government in this case includes sensitive information, whose unrestricted dissemination could adversely affect law enforcement interests and the privacy interests of third parties," Fardon wrote in court filings.

Finley is charged with nine counts of mail fraud, three counts of wire fraud, three counts of federal program bribery, and one count of conspiracy. The court will hold a status hearing on the trial of Bills and Finley on February 6, with all pretrial motions due on January 12. O'Malley, Finley and Bills remain free on bail, but their travel is severely restricted. Bills had to petition the court for permission to attend his daughter's wedding in Arizona in September.

The guilty plea in the Chicago bribery case is not the first. Shawn Brown, then-mayor of St. Peters, Missouri, was convicted for soliciting bribes from Redflex in 2006. Brown was released from prison in 2008. Jay Morris Specter, a salesman for Redflex, was released from federal prison in 2010 after serving time on fraud charges related to a previous business deal.