10/23/2014
Florida Court Of Appeal Strikes Down Rental Car Photo Ticket
Limited ruling by second highest court in Florida strikes down red light camera tickets issued to vehicle renters before July 2013.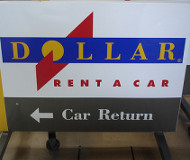 Florida cities already reeling from last week's Court of Appeal decision striking down the outsourcing of red light camera ticket issuance and review to for-profit vendors (view case) received more bad news Wednesday. The same court struck down red light camera tickets issued to motorists who rented a car prior to July 2013.

In response to last week's court ruling, West Palm Beach opted to turn off its red light cameras while other jurisdictions, including the city of Hollywood, are digging in with the intention of appealing the ruling.

Wednesday's decision involved a uniform traffic citation issued by American Traffic Solutions in Fort Lauderdale to June Dhar who had rented a car from Dollar Rent A Car. Under laws in effect before July 2, 2013, Florida's photo tickets began as a "notice of violation" that cost just $158. When someone who had rented a car received a ticket, it was treated as an unpaid notice and upgraded to the uniform traffic citation which costs $263 and appears on the recipient's driving record -- even if he was not driving the car at the time of the offense. Dhar argued this was a violation of her right to equal protection under the law. The trial and appellate courts agreed.

"We find the city's attempt to justify the disparate treatment given to short-term renters to be wholly unpersuasive," the three-judge appellate panel unanimously held. "Whether a person owns a vehicle, leases a vehicle, or enters into a short-term rental agreement, the circumstances surrounding the infraction remain the same. The activity that is being addressed (either poor driving, or ensuring that people are responsible when loaning their vehicle to others) is the same."

The legislature changed the statute last year to clarify that all red light camera tickets should be $158. The judges chided Fort Lauderdale for continuing to prosecute the rental ticket against Dhar even after the legislature fixed the law.

"Such an oversight cannot serve as a rational basis upon which to validate the disparate treatment afforded the defendant in this case," the court concluded. "In sum, the city failed to present any meritorious argument that supports treating short-term renters differently than registered owners and lessees under the pre-2013 version of the statute."

A copy of the decision is available in a 100k PDF file at the source link below.