10/9/2014
Orange County, California Advances Ordinance Banning Red Light Cameras
Red light cameras will be banned from unincorporated areas of Orange County, California under an ordinance advanced on Tuesday.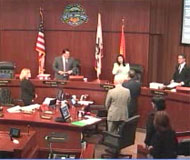 America's sixth most populous county is fed up with red light cameras, and the Orange County, California Board of Supervisors is determined to do something about it. On Tuesday, they unanimously approved to the first draft of an ordinance that outlaws the use of automated ticketing machines on roads within the incorporated areas of the county. This includes Coto de Caza, Ladera Ranch, North Tustin and Santiago Canyon. Board Chairman Shawn Nelson explained that the measure only affects ticket cameras.

"It's for the purpose of [banning] traffic enforcement without the involvement of a human being," Nelson said. "It's just automatic. We don't have those here, but I suppose we could."

The measure was met with enthusiastic support.

"I'm very supportive of this, and I'm glad you brought it forward," Supervisor Todd Spitzer said. "There's clearly a public sentiment that these things need to go."

The only red light camera that would have to be removed is at Tustin Avenue and 17th Street. One side of the intersection is in Santa Ana, but the other is within unincorporated North Tustin. Santa Ana voted to dump cameras in March (the program will cease operations when the contract expires next year). This is part of a broader trend in the state and in the county. Anaheim saw 73 percent of voters choose to ban red light cameras in 2010. Newport Beach voters banned them in 2012. Picking up on this trend, the city councils in Laguna Nigel and Orange also voted to prohibit their use. Spitzer called for a broader discussion of the way other types of cameras are used.

"This is going to be a big issue for society about how much information are we going to gather on people that's being used for law enforcement justification," Spitzer said. "For some of us it's a real intrusion into our private lives."

The measure will go before the board for final approval on October 23.

"Automated traffic enforcement systems, as the term is used in California Vehicle Code Section 21455.5, as it now exists or hereinafter may be amended or re-worded, shall not be installed within any locations in incorporated Orange County, used for any purpose on a County street or highway that is within the jurisdiction of the County of Orange, or used for any purpose related to traffic enforcement within the incorporated areas of Orange County," the proposed ordinance states.

Throughout California, nearly sixty cities have dropped their red light camera programs, including Bell Gardens, Belmont, Berkeley, Burlingame, Compton, Corona, Costa Mesa, Cupertino, El Cajon, El Monte, Escondido, Emeryville, Fairfield, Fresno, Fullerton, Gardena, Glendale, Grand Terrace, Hayward, Highland, Indian Wells, Inglewood, Irvine, Laguna Woods, Lancaster, Loma Linda, Long Beach, Los Angeles, Maywood, Montclair, Moreno Valley, Oakland, Oceanside, Paramount, Pasadena, Poway, Rancho Cucamonga, Redlands, Redwood City, Rocklin, Roseville, Rowland Heights, San Bernardino, San Carlos, San Diego, San Jose (photo radar), San Juan Capistrano, Santa Fe Springs, Santa Maria, Santa Rosa, South Gate, Union City, Upland, Walnut, Whittier, Yuba City and Yucaipa. The city councils of Laguna Niguel and Orange passed ordinances banning cameras in 2011. Residents of Anaheim, Murrieta and Newport Beach voted to ban red light cameras at the ballot box.