4/1/2014
Photo Enforcement Company Sales Continue To Dwindle
Scandal and inaccuracy drags down profit for red light camera and speed camera companies.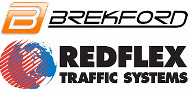 The shrinking US market for automated ticketing machines continues to hit photo enforcement companies in their bottom line. South Dakota last week became the sixteenth state to ban the use of cameras, and Santa Ana became the sixtieth city in California to cancel its red light camera program. The cumulative financial effect is visible in the financial statements of Brekford and Redflex Traffic Systems of Australia, the two publicly traded companies that focus on speed cameras and red light cameras.

According to its filing with the Securities and Exchange Commission on Thursday, Brekford is down to its last $100,000 in working capital and faces an accumulated deficit of $9,068,562. The Hanover, Maryland-based firm saw revenue drop 25 percent from $18,295,906 to $13,619,306 in the past year that ended with a net loss of $1.4 million.

"The increased net loss when comparing 2013 to 2012 was due to increased expenses related to salaries, benefit programs and associated support costs for the expansion of (photo ticketing) programs without corresponding increases in revenue as certain program implementations were delayed or terminated," Brekford told investors. "Increased depreciation expense associated with newly installed technology infrastructure and camera equipment also contributed to the loss."

Brekford is reeling from its loss of the Baltimore, Maryland speed camera contract. The firm proved incapable of taking over operations from Xerox, which was fired for issuing citations to innocent vehicle owners. Among other mistakes, Brekford issued a speeding ticket to a car that was stopped at a traffic light.

Redflex problems are far more serious as the company faces an ongoing federal bribery investigation. Due to the "contagion effect," more and more cities have been canceling red light camera and speed camera contracts lest they be associated with a firm caught in a $2 million corruption scandal in Chicago, Illinois. Redflex will lose 384 cameras in Chicago and has lost 54 cameras in other cities in the past six months.

Redflex lost $9 million in profit from the canceled Chicago contract, spent $1.1 million on lawyers due to the federal and state probes, paid $814,000 in a New Jersey class action settlement, paid $705,000 in penalties for violating California's prevailing wage law and lost $2.2 million on unprofitable school bus cameras.

The net result for Redflex has been a 14 percent decrease in after-tax profit for the last six months.