3/13/2014
Texas Judge Blocks Red Light Camera Vote In Cleveland
County judge prevents voters in Cleveland, Texas from deciding whether the city should use red light cameras.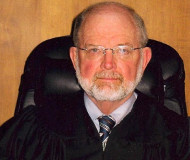 Lawyers for American Traffic Solutions (ATS) told a Texas judge that voters in the city of Cleveland should have no say in whether red light cameras are used in their community. Last week, Judge Carroll Wilborn Jr agreed, giving the Arizona-based photo ticketing firm the injunction it sought keeping voters from seeing a camera ban on the May ballot.

"The court issues a temporary injunction because the court finds that the plaintiff [ATS] is likely to prevail on the merits of the case," Judge Wilborn wrote.

Though Cleveland is in Liberty County, Judge Wilborn was specially brought in from Chambers County to hear the case. Because he is retiring, he will not face voters at the end of his term.

ATS is repeating the legal strategy the company used four years ago in its attempt to block a vote in Houston. ATS sues the city, which supports cameras and wants to keep them running, and asks a judge to grant an injunction. This excludes the sponsors of the ballot measure from the proceedings and ensures a win because the city's legal team will throw the case. In Houston, the US Court of Appeals for the Fifth Circuit rebuked the Houston judge who ruled against public participation at the ballot (view ruling), and voters in the nation's fourth largest city ultimately rejected the cameras.

Operating under the name "Keep Cleveland Safe PAC," ATS offered more than 200 pages worth of arguments in its lawsuit against the city of Cleveland, which responded with nothing more than a perfunctory, two-page document asking for the case to be dismissed. With no counter to the argument that the petition followed state law instead of the city charter requirements, Judge Wilborn endorsed everything he read in the detailed ATS legal briefs.

"The first ordinance and Proposition 4 of the second ordinance are also void and unenforceable as a matter of law because the Texas Legislature has expressly delegated the exclusive authority to implement red light camera enforcement programs to the governing body of a local government, in this instance, the Cleveland City Council," Judge Wilborn ruled. "That exclusive grant of power removes the subject of red light camera enforcement programs from the field in which citizen petitions can operate."

ATS does not want the measure on the ballot because Texas voters have proved they do not want automated ticketing machines every time the question has appeared. Residents ousted red light cameras in Dayton, Houston, Baytown, League City and College Station by margins as great as 77 percent against.

A copy of the order is available in a 120k PDF file at the source link below.