3/12/2014
South Dakota Legislature Bans Red Light Cameras
South Dakota lawmakers give final approval to a ban on red light cameras.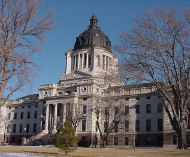 Lawmakers in South Dakota are serious about ensuring residents never again receive a photo enforcement ticket. On Tuesday the state Senate voted 34 to 1 in favor of legislation prohibiting photo ticketing companies from accessing the data needed to issue speed camera or red light camera tickets for alleged violations committed in another state (view bill). On Monday, the state House gave final approval to a ban on red light cameras that now heads to Governor Dennis Daugaard (R) for his signature.

Daugaard has not indicated whether he would sign the bill, but his strong support for the prohibiting other states from issuing red light and speed camera tickets to South Dakotans suggests he would favor an in-state ban as well.

State Representative Peggy Gibson (D-Huron) has been trying to ban automated ticketing machines for the past three years since Sioux Falls decided to allow Redflex Traffic Systems of Australia to issue traffic tickets at intersections, without the permission of the state legislature to do so. In 2010, a lower court judge found this to be illegal (view decision), and the cameras were eventually removed. No other city in South Dakota uses red light cameras or speed cameras, and they will not return if the governor signs the bill.

"No state, county, municipal, or township authority may contract with any private corporation to provide for the use of any photo monitoring device to detect any red light violation," House Bill 1100 states.

The bill remains silent on the use of speed cameras after a state Senate amendment stripped mention of photo radar. The Senate Judiciary Committee killed the original, stronger ban language on a 3 to 4 vote after Larry Nelson, a lobbyist for the Municipal League, convinced senators that the ban would interfere with regular, officer-issued tickets.

"If I had a law enforcement officer stop my client for DUI," Nelson testified last month, "and that car had a camera in it -- every [police] car has a camera in it -- I would ask the court if the stop were for a speeding violation to throw out the stop because the police officer had used a radar device to stop my client and there happened to be a camera in the car."

As a compromise, the speed camera language was removed and the bill rephrased to ban contracts to issue red light camera tickets rather than the tickets themselves. Thus amended, the bill proved popular on the Senate floor when Senate Majority Whip Ryan Maher (R-Isabel) brought it up for a vote.

"You're delivering for the constituents," the senate's presiding officer told Maher. "Way to go."

In the fifteen states that ban photo radar, no conventionally issued ticket has been tossed out because of the presence of a dashcam in the squad car.

A copy of the final bill is available in a 100k PDF file at the source link below.