2/25/2014
Virginia Moves To Add Due Process To Red Light Camera Tickets
Virginia General Assembly one step away from passing legislation giving red light camera tickets access to a court of record.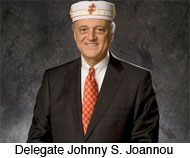 Lawmakers in Virginia are moving quickly to restore accountability to the use of photo enforcement. On Monday, the state Senate Courts of Justice Committee voted 14-1 in favor of legislation that gives vehicle owners a right to challenge automated tickets in circuit court. The measure cleared the House of Delegates unanimously earlier this month.

State Delegate Johnny S. Joannou (D-Norfolk) introduced the measure changing the rule that only allows a circuit court appeal in cases where the matter in controversy is worth more than $50, the amount of a red light camera ticket. Joannou cut the amount in half, but House committee members decided to trim it further to $20. Joannou's bill also explicitly gives vehicle owners who receive a ticket the added due process of a circuit court challenge. If the owner loses a trial in district court, the bill offers the option of an appeal in circuit court. In Virginia, all traffic tickets for moving violations can be appealed to the circuit court at no extra cost in a trial de novo, which means the case is heard again as if the first trial had never happened. The state's circuit courts recognize the right of trial by jury, even for traffic offenses.

Without the change in statute, the circuit court would not hear a red light camera case because the court only has jurisdiction over civil cases where the amount involved is more than $50.

Delegate L. Scott Lingamfelter (R-Woodbridge), a long-time opponent of red light cameras, last week saw his bill to mandate that the yellow signal duration at red light camera intersections be a minimum of three seconds pass without opposition in both the state House and Senate. The measure would make no difference whatsoever, since this is already required by the federal Manual on Uniform Traffic Control Devices, which is binding on all states. In addition, the Virginia Department of Transportation (VDOT) has already insisted that an extra 0.5 seconds of yellow be added at most intersections (view VDOT memo).

If Joannou's measure clears the full state Senate, it will head to the desk of newly sworn in Governor Terry McAuliffe (D). That would be the first time McAuliffe has addressed the issue of photo enforcement head on. His predecessor, former Governor Bob McDonnell, was an enthusiastic supporter of automated ticketing machines who signed camera industry bills that repealed requirements that localities only install cameras at intersections where they could show a genuine safety need.

Red light cameras have been controversial in Virginia. After being legal for a decade, the state asked VDOT to verify whether the devices improved safety or not. In 2007, a state report showed rear end collisions, angle accidents and injuries all increased where cameras were used (view study).

A copy of Joannou's bill is available in a 60k PDF file at the source link below.