1/20/2014
California City Weighs Keeping Red Light Cameras Despite Accidents
Independent analysis finds red light cameras increased accidents in Walnut, California.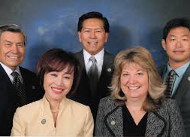 Walnut, California's city council decided earlier this month to keep red light cameras clicking beyond the automated ticketing contract's February 27 expiration date. In the face of renewed questions over the program's effectiveness, the council renewed the contract with scandal-plagued Redflex Traffic Systems for just three months as councilmen weigh the evidence. The Australian firm has been mailing tickets, now $500 each, since 2007.

"Photo enforcement programs will typically cause an increase in rear-end type collisions and cause a decrease in broadside type collisions," city management analyst Rosalea Layman admitted in a memo to the city council.

According to the city's analysis, rear end collisions increased 53 percent from 5.7 to 8.7 accidents per year and broadsides dropped 21 percent from 1.4 to 1.1. By the city's own figures, one non-injury broadside collision was traded for 21 rear end collisions, several of which involved injuries. After the cameras were activated, the city installed dedicated right and left turn lanes to improve traffic flow. The city blamed the rear end collision increase on the traffic improvements, but credited the cameras alone with the broadside collision result.

Not so fast says Jay Beeber, Executive Director of Safer Streets LA. Beeber decided to double-check the city's analysis against ten years' data from the California Highway Patrol's Statewide Integrated Traffic Records System database of traffic collisions (five years before and five years after). The numbers show broadside collisions did not decrease, they doubled.

"No argument can be made that photo enforcement has improved safety at this intersection or within the city of Walnut," Beeber wrote. "In fact, the use of red light cameras appears to have decreased safety and put roadway users at increased risk."

Beeber faulted the city for relying on inaccurate measures of the camera's performance.

"Since not all broadside collisions are caused by a red light violation and not all red light violations result in a broadside collision, using the general category of broadside collisions rather than the more specific category of collisions caused by red light running will provide erroneous results," Beeber wrote. "However, since the staff report provided for the city council meeting on January 8th evaluated broadside collisions, data on those types of crashes were also evaluated."

The state data show red light-running collisions increased 400 percent at the photo enforced intersection. Over the same ten-year period, there was no red-light related accident increase at the other intersections in Walnut. Contrary to the city's assertion that broadside accidents are more serious, the lone red-light related collision that happened at the monitored location prior to camera activation was minor and involved no visible injuries.

Redflex issued 5053 tickets worth $2.4 million last year, about 70 percent of which were given to vehicles photographed turning right on red.

A copy of the Safer Streets LA report is available in a 250k PDF file at the source link below.