9/5/2013
Ohio Supreme Court Allows Lawsuit Over Traffic Stop Dashcam Video
Traffic stop dashcam video public records lawsuit upheld by the Ohio Supreme Court.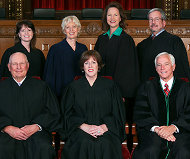 The Ohio State Highway Patrol does not want to give up dashcam footage of a traffic stop from two years ago. Motorist Mark Miller insists the video record of a July 15, 2011 drunk driving stop exists, but state officials refuse to disclose it, citing an exemption for withholding public records related to open criminal investigations. Miller challenged the refusal all the way to the state Supreme Court which ruled Tuesday in Miller's favor by ordering the State Patrol to prove the exemption actually applies. As a member of the Coalition Opposed to Additional Spending and Taxes, Miller sought to document abuse of power related to traffic incidents involving state Trooper Joseph Westhoven.

On September 19, 2011, Miller initially filed a sweeping request for all Westhoven's dashcam recordings from between June 1, 2011 and August 5, 2011. He later narrowed his request to the recording of a drunk-driving traffic stop involving Ashley Ruberg, along with the police report about the incident.

When the State Patrol refused to hand over the dashcam video and report, Miller asked the Court of Appeals to order the state agency to comply with the public records law, which explicitly favors handing over documents and electronic records. State officials pounced on deficiencies in Miller's legal filings, including a missed deadline, and moved for the suit to be thrown out of court on a technicality. The Court of Appeals complied, ruling that Miller had not proved he ever filed a proper records request. The Supreme Court found it unacceptable for the lower court to ignore the obvious confirmation of the request found in the State Patrol's own documents.

"That court abused its discretion by deciding that Miller presented no evidence that his records request had ever been denied," the Supreme Court ruled. "Regardless of the other contradictory and confusing evidence, the March 20, 2012 letter from the Patrol demonstrates on its face that Miller made a public-records request and that the Patrol partially complied with that request but withheld some records. The existence and authenticity of the letter are not contested by the Patrol."

The unanimous court ordered the case back to the Court of Appeals to decide on the merits whether the dashcam video is truly exempt. The court cautioned that this exemption is limited and applies to "notes, working papers, memoranda, or similar materials" but not to 911 tape recordings or routine police reports. The burden of proof falls on the State Patrol.

"Having refused to provide requested records, the Patrol must show that the withheld records fall squarely within a statutory exception," the justices concluded.

Miller seeks $1000 in damages, plus attorney's fees. A copy of the ruling is available in a 50k PDF file at the source link below.