7/24/2013
Ohio: Lawsuit Seeks To Shut Down Speed Cameras
Three lawyers file a class action suit against speed camera program in New Miami, Ohio.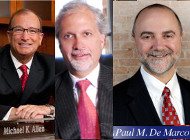 Earlier this month a Hamilton County, Ohio judge declared Elmwood Place in contempt of court for ignoring a ruling that found speed cameras to be an unlawful "scam." A group of lawyers is seeking to replicate that legal success by shutting down the automated ticketing machines in New Miami, a village of 2000 residents located twenty miles to the north, with a class action lawsuit filed on Friday.

Charles H. Rittgers, Michael K. Allen and Paul M. DeMarco cited the March decision of Hamilton County Judge Robert P. Ruehlman (view case) in the hope that a Butler County Court of Common Pleas judge would agree that the automated ticketing ordinance fails to provide adequate due process to vehicle owners that receive a ticket from Optotraffic demanding payment of up to $180.

"The primary purpose for the implementation of the automated speed enforcement program is to generate revenue, not public safety," the attorneys wrote in their brief to the court. "Revenue from the automated speed enforcement program has been used for non-public safety purposes such as paving the village hall parking lot and purchasing a used dump truck for spreading salt."

Optotraffic began issuing citations last October in return for a cut of the fine revenue. The lawsuit argues that Optotraffic supplies hearsay evidence to the court and denies an innocent motorists a realistic opportunity to defend themselves.

"The procedures set forth in the ordinance do not permit a person who receives a notice of violation and who claims to not be driving the car to merely convince the hearing officer that he or she was not the driver," the lawyers wrote. "Instead, the owner must provide the name and address of the driver of the vehicle. No other forms of evidence can establish the affirmative defense."

New Miami's ordinance is identical to the one struck down in Elmwood Place. The ordinance places the authority to determine guilt in the hands of an individual selected and paid by the mayor in an administrative proceeding. State law vests the Hamilton Municipal Court with jurisdiction over ordinance violations, not the civil administrative hearing, Judge Ruehlman found.