4/1/2013
Arizona: Longer Yellow Reduced Accidents
Chandler, Arizona sees decrease in traffic collisions after increasing yellow times slightly.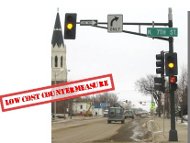 Increasing the duration of the yellow signal at eight intersections in Chandler, Arizona reduced accidents, according to six years' worth of data collected by the city. In June 2007, the city increased the yellow at the intersection of Alma School Road and Ray by just 0.5 seconds. Officials were pleased to see a big drop in collisions, so timing was extended from 4.0 to 4.5 seconds at seven additional locations in November 2008.

Proponents of automated ticketing may grudgingly admit longer yellows have a benefit, but they insist it the effect fades over time. This has not proved the case in Chandler. Three years after the yellow was lengthened at Alma School Road and Ray, accidents had dropped 47 percent. Adding in the results for Alma School Road at Walmart, Knox Road, Motorola, Galveston Street and Erie Street shows an overall drop of 40 percent in accidents. Chandler omits full data from Alma School Road at Warner Road and Fire Station Number Two because the locations were reconstructed in 2007, skewing the "before" data.

The safety benefit of longer yellow timing is well documented. A 2004 study by the Texas Transportation Institute concluded the addition of one second in yellow to the minimum standard set by the Institute of Transportation Engineers produced a 53 percent reduction in violations. Fewer violations also translated into greater safety, with TTI scientists finding a 40 percent reduction in collisions attributable to the signal adjustment (view study). Chandler's yellow time increase was much more modest than the one TTI studied.

The reduction in violations, however, creates a dilemma for cities like Chandler because two of the longer yellow intersections -- Alma School Road at Warner Road and Ray -- have red light cameras. Longer yellows reduce revenue, creating a conflict of interest between financial and safety interests. Chandler City Transportation Engineer Mike Mah used statistical techniques that marginalized the impact that the longer yellows had and came up with excuses to explain away the improvement.

"We had surmised back in March 2010 that perhaps the reduction in crash rate may be due to reduced traffic volumes, reduced economic activity, or heightened police enforcement," Mah wrote in a February 27 memo to the city council.

Instead of totaling the number of accidents at the intersections with full datasets -- there were 264 collisions before before and 158 after -- Mah took the change at each intersection and averaged the result. This technique exaggerates the influence of a small increase in accidents at one location, Alma School Road and Erie Street. There were 12 accidents in the before period and 15 in the after -- a 25 percent increase, but a difference of only three accidents.

The council last month approved a contract extension with Redflex Traffic Systems of Australia to operate red light cameras and speed cameras through March 2016. Redflex will pocket just under $1 million from the deal. Since Redflex has been debarred from bidding on Chicago contracts, Chandler can cancel its agreement with Redflex at any time.

"City may, by written notice to the contractor, immediately terminate this contract if city determines that contractor has been debarred, suspended or otherwise lawfully prohibited from participating in any public procurement activity, including but not limited to, being disapproved as a subcontractor of any public procurement unit or other governmental body," the contract with Redflex states.