3/27/2013
New York: Judge Rules Careful Driving Is Not A Crime
New York county judge rules driving with two hands on the wheel does not create a suspicion of criminal activity.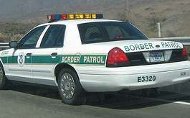 Driving with hands on the wheel, arms extended, without passing other vehicles is not a crime in New York, a county judge ruled last week. St. Lawrence County Surrogate's Court Judge Kathleen Martin Rogers found the US Border Patrol had been wrong to stop Corene M. Deer and Rachel C. Morgan, who were driving carefully at around 8pm on January 18, 2012 in the town of Gouverneur.

Agent Brandon Carrier spotted Deer and Morgan's white SUV and became suspicious when he saw the driver had more than one hand on the wheel and did not appear to be relaxed. Agent Carrier began following closely enough to read the license plate and radio in to find the SUV was not stolen.

With the marked patrol car following for a total of six miles, the SUV maintained a speed of 50 to 60 MPH. The SUV did not take the opportunity to pass slower vehicles ahead, and when the road expanded into two lanes, the SUV pulled to the right to allow the patrol car to pass. Agent Carrier decided to conduct a traffic stop.

"I just want to go home and see my baby," Morgan said as she handed Agent Carrier her registration and license.

Both Morgan and Deer are US citizens, and they stated they were headed to Buffalo. Agent Carrier became suspicious and about an hour into the stop a drug dog was called to the scene, and a tire filled with marijuana was found in the trunk. This evidence, however, was thrown out because the traffic stop itself was deemed invalid and the Border Patrol had no business stopping them.

"The court believes that Officer Carrier decided to follow the white SUV and do a radio run because the driver appeared nervous," Judge Rogers ruled. "Her actions were completely consistent with a person who was not engaged in any criminal activity. There was no basis to believe that a vehicle with a NYS license plate and registration had crossed the border or was engaged in any way with smuggling persons or contraband across the border."

Agent Carrier testified that he also became suspicious when he learned the car was registered to someone with the common Indian name of Deer.

"A vehicle stop must be valid at its inception: it cannot be bootstrapped into reasonable suspicion by mounting concerns over diverging explanations from the vehicle occupants as to their intended destination," Judge Rogers ruled. "His candid testimony that the occupants looked like Mohawks and that one had what Carrier believed is a Mohawk name, and that the car was listed for an address near the Mohawk Indian reservation bordered on improper racial profiling."

A copy of the decision is available at the source link below.