11/9/2012
Australia: Government Report Calls for Speed Camera Refunds
Speed camera commissioner in Victoria, Australia recommends refunding 6794 tickets over shortened yellow signal timing.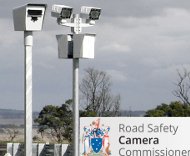 Drivers in Victoria, Australia ticketed at intersections where the yellow signal timing is illegally short should receive a refund, the state's Road Safety Camera Commissioner said in a report released today. Gordon Lewis, a former county judge, sent his recommendation to the Minister for Police and Emergency Services in response to signal timing at eight intersections where the timing has been deficient by as much as 1.5 seconds for up to seven years.

Motorist Gordon Bishop revealed the problem in September after he successfully fought a ticket he received at Melbourne Airport. The intersection of Terminal Drive and Centre Road was deficient because VicRoads increased the speed limit from 40km/h to 50km/h at the airport's request without increasing the yellow timing from 3.0 to 3.5 seconds, as required by regulations. The agency realized the error in January, but it did not begin investigating other intersections until Bishop made appearances on the 3AW radio show, raising the profile of the issue. State regulations recognize the importance of proper timing for safety.

"The design of the yellow time is related to the speed of an approaching vehicle, the acceptable deceleration rate for the vehicle and its distance from the stop line," the VicRoads manual explains. "There is a critical distance from the intersection that a driver will be faced with the option of stopping at the stop line or legally continuing and entering the intersection prior to the introduction of the red signal. The appropriate yellow time should ensure that the continuing vehicle can cross the stop line before the yellow signal disappears."

At Doncaster Road and Williamsons Road, the timing was off by 1.5 seconds after VicRoads made changes to accommodate bus priority lanes. Errors were introduced at other locations when new signal programming was improperly implemented. Taken together, 6794 motorists received tickets for entering the intersection while the light should have been yellow, not red. Australian law does not allow drivers to enter on red unless they cannot stop safely, but Lewis suggested something had to be done to address media criticism.

"As a result of the erroneous length of the yellow light phases, I recommend any person who received a traffic infringement notice for a red light offense... should have any traffic infringement notice withdrawn, any infringement penalty refunded and any demerit points reversed," Lewis concluded.

Lewis also asked VicRoads to conduct an audit of signal timing every six months. Victoria implements a 0.5 second grace period before issuing a citation, so if the light changes from yellow to red, the driver will not be ticketed a split second after his tires cross the stop line, as is increasingly common in the US.

A copy of the report is available in a 200k PDF file at the source link below.