11/8/2012
Colorado: Court Endorses Handcuffing of Innocent Motorists During Robbery Search
Judge rules search for bank robber in Aurora, Colorado justifies holding 29 innocent motorists at gun point for nearly two hours.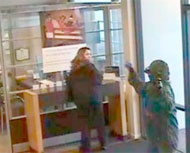 Police in Aurora, Colorado did nothing wrong when they handcuffed dozens of motorists and held them at gunpoint for an hour and forty-five minutes, according to a ruling issued last month. US District Court Judge William J. Martinez refused to play the role of a Monday morning quarterback in deciding whether the controversial mass detention violated the Fourth Amendment rights of drivers who had been going about their business on a Saturday afternoon.

On June 2, police were responded to the robbery of a Wells Fargo Bank. A masked man waved a gun in one hand and an air horn in another, ordering customers to get down on the floor as he scooped stacks of cash into a bag. He walked out, but a GPS tracker on the money revealed his location within a thirty-foot radius. Police had a better scanner that could narrow the range to five feet. Officers noticed at around 3:52pm that day, the signal showed the robber had stopped on Greenwood Drive, but they did not respond before he began moving again three minutes later. At 4pm, Officer Kristopher McDowell followed the signal to the intersection of Iliff Avenue and Buckley Road and order all twenty cars in the vicinity to stop. Thirty more officers soon arrived.

Twenty-nine drivers and passengers were ordered to remain in their cars without moving, holding their hands outside the window of their cars while officers trained their guns on them. At no point was anyone allowed to use a restroom, contact families or tend to young children in the backseat of vehicles. Nobody was informed about the reason they were being detained.

At first, only a few were ordered out of their vehicles with their hands up at gunpoint. Police noticed one of them, Christian Paetsch, who turned out to be the prime suspect, was seen making furtive motions within his Ford Expedition SUV. An hour into the stop, the handheld GPS unit was brought to the Expedition where it gave the strongest response of any car in the area.

At this point, occupants of seventeen other cars were ordered out using "high-risk" techniques that left all adults not traveling with children handcuffed at gunpoint. By 5:28pm, Officer Alfred Roberson looked through the Expedition's window and saw a bundle of cash in the front passenger seat. About fifteen minutes later, the innocent drivers were freed after crime scene photographers finished documenting the area. Paetsch was taken into custody and his SUV was found to have a 9mm Glock, a .22-caliber Walther handgun, a wig, an air horn, gloves and $22,956 in cash with an embedded GPS transponder.

Paetsch wanted the evidence thrown out because the search was conducted without a warrant. Judge Martinez rejected his motion, citing the Supreme Court's precedents governing drunk-driving roadblocks. The court found it was reasonable to believe the dangerous bank robber was among the vehicles stopped, but it went further to back the tactics used by Aurora police.

"The court questions whether such invasive techniques were necessary to use on all twenty vehicles, as opposed to, for example, only the two vehicles in which occupants were observed moving around inside their vehicles and otherwise acting suspiciously," Judge Martinez wrote. "However, the fact of the matter is that the officers had only very vague suspect information, such that it was reasonable to err on the side of caution and assume that the robber could be any of the stopped adults. Further, the fact that the court questions whether less invasive measures could have been utilized is, under the circumstances, unwarranted second-guessing of the officers' actions here, given that they were attempting to apprehend a dangerous felon in real time."

Under the high court's precedent, roadblocks may only detain motorists not suspected of any wrongdoing for a "brief" time. Judge Martinez also brushed aside this concern, insisting the actions were reasonable under the unusual circumstances.

"The court is to some extent troubled by the overall invasiveness of the traffic stop, but not enough so to hold that the officers' overall actions were unconstitutional under the circumstances," Judge Martinez wrote.

A copy of the ruling is available in a 100k PDF file at the source link below.