10/14/2012
France, Germany, Saudi Arabia: Speed Cameras Attacked, Questioned
Speed cameras in France and Germany are assaulted while ambulance drivers in Saudi Arabia complain of the hazards they create.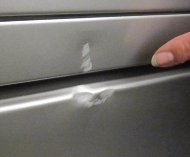 In Domalain, France vigilantes disabled a speed camera using yellow spray paint. According to Ouest France, the automated ticketing machine on the RD178 headed toward Vitre can no longer issue citations. Police have no idea who is responsible.

In Viersen, Germany a 44-year-old man attempted to detach a traffic camera last Sunday at around 1:30am. A pair of police officers who were driving home spotted the man on a ladder using tools to unbolt the automated ticketing machine, Westdeutsche Zeitung reported. The man, who was allegedly intoxicated at the time, faces charges. On Friday at about 8pm in Bad Bellingen, a vigilante hurled a large rock at a mobile speed camera car, leaving a dent, according to police reports.

In Saudi Arabia ambulance services are complaining about the way red light cameras are making it harder for them to do their job. Many drivers refuse to give way to an ambulance at an intersection if the light is red for fear of receiving a ticket. This happened recently in Tabuk.

"Some were scared, but allowed ambulances to pass and carry the offense, but the others kept still," Mohammed Mohsen, a witness, told the Al Watan newspaper.