9/26/2012
Study: Public Transit Cannot Succeed Without Punishing Drivers
Paper suggests punitive taxes on automobiles is the key to improving fortunes of American bus and subway systems.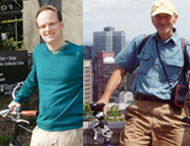 An article published earlier this month in the journal Transport Reviews argues public transportation will not succeed in the United States unless the nation's leaders adopt strict anti-motorist policies. Virginia Tech Professor Ralph Buehler and Rutgers Professor John Pucher compared the result of surveys conducted by the US Department of Transportation and the German Federal Ministry of Transport to get an idea of how people in each country choose to get around. The numbers show a consistent trend of Americans shunning the use of mass transit, especially by comparison to their European counterparts.

"Controlling for gender, age, employment, car ownership, population density, metropolitan area size, and day of the week, logistic regressions on a pooled USA-Germany data set indicate that Germans, compared with Americans, are five times more likely to ride public transport," Buehler and Pucher wrote. "The most important difference between the two countries, however, is that local, state, and federal governments in the USA have failed to restrict car use in cities, raise the cost of driving, and improve land-use policies."

Germany imposes a 19 percent sales tax on all automobile purchases, compared to the 4.9 percent levied, on average, in US states. At 91 cents per liter, gasoline in the US is half the cost of the $2.09 per liter cost of fuel in Germany. Roadway user fees in Germany are 2.5 times higher than they are in the US. Obtaining a driver's license in the US is comparatively easy, costing just $100. The extensive training requirements in Germany drive the cost to $2000 per applicant. German land use policies are specifically designed to discourage making parking spaces available to employees, resulting in 39 percent fewer spaces per job compared to America.

Even during the recent recession, transit use barely grew. From 2002 to 2009, the share of all trips taken on a bus increased 0.3 percent and rail by 0.1 percent. Public transit has not been popular in the US since the end of World War II.

"The initial decline was due to the ending of wartime fuel and tire rationing and the resumption of car production, which had been interrupted by the use of factories to construct military vehicles," Buehler and Pucher wrote. "Throughout the 1950s and 1960s, however, rapidly rising per capita income and car ownership -- as well as the resulting proliferation of car-oriented suburban sprawl -- undermined public transport demand."

The study noted German transport systems are far more efficient, with motorists and other taxpayers subsidizing each bus or subway trip by $1.82, compared to the $5.09 per-passenger subsidy in the US. Fares cover just 33 percent of the cost of public transit operations in the US. For advocates of buses and subways, this has not been nearly enough.

"Even $830 billion in government subsidies since 1975 have not succeeded in raising public transport's mode share in the USA, which remains at less than 2 percent of all trips," Buehler and Pucher concluded. "Without the necessary policies to restrict car use and make it more expensive, American public transport is doomed to remain a marginal means of transport, used mainly by those who have no other choice."

A copy of the paper is available in a PDF file at the source link below.