9/7/2012
Florida: Review Shows Increased Red Light Cameras Accidents
Analysis suggests Hallandale Beach, Florida red light cameras have failed to reduce accidents.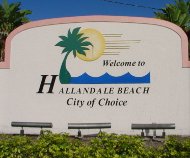 A review of the accident history at red light camera intersections in Hallandale Beach, Florida suggests automated ticketing machines have failed to yield an overall safety benefit since Arizona-based American Traffic Solutions (ATS) began paying for the right to issue tickets and collect fines at a pair of intersections more than two years ago.

ATS mailed out the first tickets at the intersection of Federal Highway and East Hallandale Beach Boulevard in December 2009. Retired Florida Highway Patrol lieutenant Paul Henry pulled the city's accident history for two years prior to camera installation and compared it to what happened two years with the camera active.

"I began analyzing the data using my experience as a law enforcement supervisor, where I checked crash reports prior to public release," Henry told TheNewspaper.

The overall number of accidents went up 46 percent with the greatest increase in rear-end collisions. The city side-stepped the negative result and pointed to a reduction in "red light running" crashes as evidence of the program's success, but at least one of the four collisions marked as related to red light running in the before period was caused by an impaired driver. The presence of a camera would not likely have changed the outcome.

The camera at Hallandale Beach Boulevard and Southwest 10 Terrace began ticking on March 1, 2011, so only ten months worth of after data were available. In this brief period, overall accidents increased 11 percent.

In addition to the safety issues related to camera use, Henry is concerned about the constitutional problems with automated ticketing.

"I got involved in this issue when I saw that the devices were a guilty until proven innocent scheme that did not ticket the offender -- just because I retired from law enforcement does not mean my sense of right and wrong also retired," Henry said.

In the next legislative session, Henry is promoting a new version of the Florida Motorist Rights Restoration Act, legislation that would place the burden on the government to prove someone guilty of a traffic infraction and ensure no motorist could be compelled to be a witness against himself.

Last year, Hallandale Beach settled a lawsuit over its illegal use of cameras prior to a 2010 change in state law. The city and ATS agreed to offer a partial refund to ticket recipients.

A copy of the analysis is available in a 150k PDF file at the source link below. View Henry's red light camera information page.