8/14/2012
Florida Newspaper Wins Red Light Camera FOIA Case
Tallahassee, Florida will have to turn over names of red light camera ticket recipients to a local newspaper.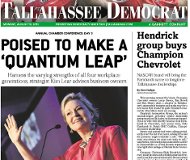 A federal court on Monday ordered the city of Tallahassee and for-profit vendor Affiliated Computer Services (ACS) to hand over the names of all red light camera ticket recipients to the Tallahassee Democrat newspaper. On July 15, 2011, the paper demanded copies of a year's worth of notices so it could analyze how the program is being administered, particularly the identity of city and county employees who have received citations. Fearing disclosure, the city filed suit, asking the US District Court for the Northern District of Florida to decide whether the freedom of information request was barred under federal statutes designed to protect motorist privacy.

The Driver's Privacy Protection Act (DPPA) prohibits the disclosure of personal information from motor vehicle records, unless it is for law enforcement or public safety purposes. The penalty for unlawful disclosure is $2500 for each individual whose privacy is violated -- or $42.5 million for the 17,000 names sought by the Tallahassee Democrat.

"Democrat believes the law to be clear and that the requested records are public, should be produced and have been wrongfully withheld," Federated Publications attorneys Michael J. Glazer and Steven M. Hogan argued. "There is no exemption that would prevent the inspection or copying of the requested records."

The court agreed there was no question that Florida's broad public records law requires release of the requested information. It also found the federal privacy statute must be read to allow disclosure because the information becomes part of the record of a legal proceeding.

"This reading of the DPPA is supported by the absurd results that would attach to a different reading," US District Judge Robert L. Hinkle ruled on Thursday. "An officer working a drug case shows an informant a driver's-license photograph to confirm a drug dealer's identity, and the officer later explains it in court and introduces the driver's-license photograph, perhaps to rebut a charge that the informant recently fabricated the story. Are these transcripts and exhibits now protected from disclosure by the DPPA? Of course not. Once properly used in a court proceeding, the information is public and can be disclosed without limits."

Hinkle found the city's lawsuit to have been a prudent move given the "close" nature of the legal question at hand. He decided the Tallahassee Democrat did not deserve to be reimbursed for its legal fees.

A copy of the order is available in a 40k PDF file at the source link below.