4/11/2012
Washington Supreme Court Restricts Car Searches
Motorists in Washington state enjoy greater protection from police searches following a state Supreme Court ruling.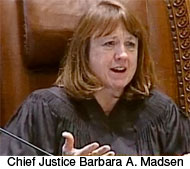 The state constitution in Washington provides its drivers greater privacy protections. Last Thursday, the state Supreme Court ruled that this principle should be applied to automobile searches, shielding Evergreen State residents from intrusions that would otherwise be legal under federal precedent.

The justices made their 8-1 decision in a case arising from a seatbelt violation that state Trooper Keith Pigott observed on July 22, 2006. Daniel Snapp had been driving his blue Ford Escort that morning with Angela Mae Wilcox, but his safety restraint appeared to be patched together with a blue carabiner. As Pigott pulled the Escort over, he claimed to see Snapp hide something under the seat of his car.

In the course of the traffic stop, Snapp revealed he had a meth pipe and Wilcox had marijuana in her purse. He also had an outstanding no-bail arrest warrant. A search of the Escort further revealed Snapp's involvement in identity theft and other crimes. Acting as his own attorney, Snapp successfully argued to the high court that the officer should have obtained a warrant before searching his car.

The Washington state constitution provides that "no person shall be disturbed in his private affairs, or his home invaded, without authority of law," and the state courts recognize that this applies to automobiles. Under the 2009 US Supreme Court ruling in Arizona v. Gant (view ruling), warrantless vehicle searches are limited to cases where the suspect has access to the car to obtain a weapon or destroy evidence. A "Thornton exception" allows searches when it is reasonable to believe evidence related to the crime of arrest can be found in the vehicle, but this exception no longer applies in Washington.

"Contrary to the urgency attending the search incident to arrest to preserve officer safety and prevent destruction or concealment of evidence, there is no similar necessity associated with a warrantless search based upon either a reasonable belief or probable cause to believe that evidence of the crime of arrest is in the vehicle," Chief Justice Barbara A. Madsen wrote for the majority.

Justice James M. Johnson disagreed with his colleagues and said the latest ruling represents another reversal from past precedent. Fifty years ago, Washington allowed police to search anyone who had been placed under arrest.

"Rather than continuing vacillation of our case law, I believe we should adopt analyses derived from our constitution and historical case law," Johnson wrote in his dissent. "We should recognize the goals of clarity for law enforcement and citizens and heightened protection of individual liberties under article I, section 7 of our constitution. Such a rule of law would allow a search incident to lawful arrest when there is probable cause to believe evidence relevant to the crime of arrest will be found in the vehicle."

The court reversed Snapp's conviction.

A copy of the decision is available in a 90k PDF file at the source link below.