4/9/2012
Ohio Court Rules Plate Cannot Go in Rear Window
Ohio appeals court rules it is illegal to display a license plate in the back window of an automobile.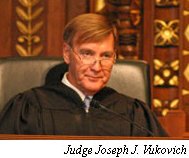 An Ohio license plate cannot be displayed in the rear window of a vehicle, the state Court of Appeals ruled on March 30. A three-judge panel considered the issue after Justin Fredo was stopped on July 30, 2009 for placing his valid, permanent license plate in the in the back window of his truck where Fredo believed it was clearly visible. The state trooper who stopped him insisted it had to be attached to the bumper, and that it was not visible because it was not illuminated. State law only requires that the plate be properly secured and in plain view.

"No person who is the owner or operator of a motor vehicle shall fail to display in plain view on the front and rear of the motor vehicle the distinctive number and registration mark, including any county identification sticker and any validation sticker," Ohio Code Section 4503.21(A) states. "All license plates shall be securely fastened so as not to swing, and shall not be covered by any material that obstructs their visibility."

The law goes on to authorize display of a temporary permit in a car's rear window. That particular provision of law did not exist in 1984, when the Ohio Supreme Court ruled in Ohio v. Chatton that display of a temporary tag in the rear window was permissible. The Court of Appeals disagreed with Fredo that this precedent applied to a permanent license plate.

"Common sense dictates that on the rear of the vehicle means mounted to the exterior rear of the vehicle," Judge Joseph J. Vukovich wrote for the three-judge panel. "It does not mean placement in the rear window. If it had meant placement in the rear window, the word 'on' would not have been used. Furthermore, the general assembly's allowance for placing a temporary tag in the rear window indicates that it knew how to specify that such a placement was valid. It did not use that language when discussing a permanent license plate."

The court cited the decision of another appellate division that concluded displaying a license plate in the front dashboard was also insufficient.

"Even though we are dealing with the rear window, instead of the front window and dashboard, we find that this reasoning equally applies here," Vukovich wrote. "Accordingly, we adopt this reasoning as our own."

A copy of the decision is available in a 45k PDF file at the source link below.