1/9/2012
New Mexico: Report Finds No Proven Red Light Camera Benefit
Study shows red light cameras made no solid, statistically significant difference in crash rates in Las Cruces, New Mexico.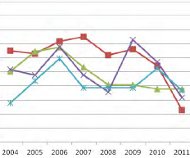 The city of Las Cruces, New Mexico commissioned a local university last year to come up with a report justifying the use of red light cameras in the community. After examining city-supplied data New Mexico State University (NMSU) researchers stretched to find something positive to say in a study released Tuesday.

"The trend analysis of the signalized intersections shows a reduction in the crash rates at certain intersections for certain accident types," Professors Hansuk Sohn and Paola Bandini concluded. "Even though the findings from the crash data are encouraging, not all the results from the trend analysis are supported by the statistical analysis."

Las Cruces began using automated ticketing machines at four intersections in 2009, although the state government ordered two of these shut down last March. The study compared the performance of the camera locations with six control intersections selected by the city that had no cameras.

Overall, the study found a decrease in accidents at two camera intersections, an increase at one and no change at the fourth. This compares to the control intersections where there were three decreases, two increases and one without any change. None of these changes, however, were large enough to carry definitive scientific weight. The researchers focused on the single intersection with the most positive result.

"Crash rate reductions at the LOTE intersection [Lohman Avenue and Telshor Boulevard] are statistically almost significant (or marginally significant) after the STOP operation," the report stated. "There are no significant changes in crash rates at all other intersections including control intersections."

The city council has been searching for a justification to continue with the automated ticketing program which was expected to yield $5 million in revenue last year. City leaders showed no concern about early signs that the program failed to live up to its promise of accident reduction. In November 2010, the council voted to continue the program despite overall negative collision data at the time. NMSU recommended further study be done, taking into account the number of tickets issued using data from Redflex Traffic Systems, the Australian company in charge of the program.

A copy of the study is available in a PDF file at the source link below.