8/24/2011
Redflex Reports Drop in US Traffic Camera Revenue
Australian photo enforcement firm reports US appetite for cameras has slowed down, with a $2.4 million drop in US revenue.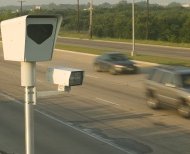 Opponents of red light cameras and speed cameras have had an impact on the bottom line of one of the world's largest photo enforcement providers. Redflex Traffic Systems reported a "slowdown in the level of new contracts signed" that dragged the firm's US traffic camera revenue down $2.4 million in the 2011 financial year. Redflex lost $1.5 million worth of US contracts this year.

Redflex is not alone. Competitor American Traffic Solutions (ATS) saw major setbacks in two of the country's largest cities. Los Angeles, California canceled its contract and Houston, Texas is poised to end ticketing after residents voted last November to prohibit red light cameras.

The company blamed a number of factors for lower than expected profits. The US dollar's parity with the Australian dollar has meant that money paid by American motorists lost 12.5 percent of its value over the course of the year as the funds were transferred to Australian accounts. Redflex also wasted $2.5 million in a failed attempt to sell itself to Macquarie Bank.

"The general slowdown in the US economy post the global financial crisis continues to make for a challenging business environment in North America," the company reported. "This financial year, Redflex has focused its efforts on strengthening its business model through tighter contract language, more aggressive collection efforts in key markets, strengthening its information technology infrastructure to become more efficient, and focusing on new products and services for growth outside of red light and speed enforcement programs.... A ballot initiative seeking to prohibit Redflex's photo enforcement program in Port Lavaca, Texas was blocked through litigation."

Despite the disappointing US results, the company told investors on the Australian Securities Exchange that, overall, net profit for the year was $10 million on $140 million in automated ticketing revenue, a sharp rise from 2010's dismal showing of $442,000 in net profit before tax. The positive overall financial result came courtesy of the Middle East where government demands drove a 51 percent increase in international business revenue. The biggest windfall came from automated ticketing machines in Saudi Arabia and orders for new cameras in Abu Dhabi.

Redflex shares currently trade at $1.76, down substantially from the $2.75 offered under the Macquarie buyout deal earlier this year.