4/15/2011
Virginia: Toll Road Users Sue Over Diversion of Funds to Rail
Lawsuit seeks refund of $130 million in tolls taken from Virginia motorists to fund mass transit.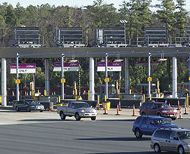 Users of the Dulles Toll Road in Northern Virginia filed a federal class action lawsuit yesterday seeking refunds from toll hikes imposed to fund a $7 billion mass transit project. Great Falls resident John B. Corr and Hillsboro resident John W. Grigsby argued that the Metropolitan Washington Airports Authority (MWAA) has no authority to set toll rates and that the diversion of over $130 million from motorists constitutes an illegal tax.

"'No taxation without representation' is not simply some slogan redolent of a past age of patriots and heroes," attorney Robert Cynkar wrote on behalf of Corr and Grigsby. "Rather, it is an ever-vital principle at the heart of representative government and the liberty such government is established to preserve... This case challenges exactions of money from motorists, through the tolls they pay for the use of the Dulles Toll Road, that violate this fundamental principle and so are unconstitutional under the federal and Virginia constitutions."

In 2005, the Commonwealth Transportation Board increased the amount of tolls far beyond the cost of operation, maintenance and debt service for the Dulles Toll Road. The extra money was meant to be used to bankroll the construction of a Metrorail line to Dulles International Airport, 25 miles outside the nation's capital. MWAA took control of the toll road in 2008.

The Virginia General Assembly never authorized the MWAA authority to set toll rates, and it could not do so, Corr and Grigsby argue, because the MWAA's 13-member board is appointed by the District of Columbia's mayor, the US president and the governors of Maryland and Virginia. As an interstate entity, it has no power under the Virginia constitution to impose a tax.

The state constitution mandates that all taxes must be passed by the legislature so that specific representatives would be held accountable for their votes (Article 4 Section 2). Likewise, the constitution bars establishment of any government "separate from, or independent of, the government of Virginia" within the state (Article 1 Section 14). In 2008, the state supreme court interpreted these provisions to mean that "the General Assembly may not delegate its taxing power to a non-elected body."

In 1995, the General Assembly did pass an act authorizing the Commonwealth Transportation Board (CTB) to divert toll money for the use of mass transit. Corr and Grigsby argue this law is unconstitutional because CTB is an unelected body. The plaintiffs are asking the US District Court for the Eastern District of Virginia to prohibit MWAA from setting rates and to refund all money illegally collected.