6/18/2010
Illinois: Study Finds No Benefit To Chicago Red Light Cameras
Analysis examining Chicago, Illinois red light cameras finds no clear safety benefit.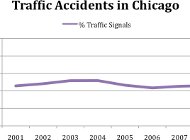 A new study of the country's largest red light camera program found no significant benefit to the use of photo enforcement. Rajiv Shah, an adjunct professor at the University of Illinois at Chicago released the final version of his exploratory analysis into Chicago's photo ticketing program, which boasts 188 cameras.

Shah's analyzed Illinois Department of Transportation data obtained by the Chicago Tribune which showed that although accidents dropped seven percent at intersections citywide, fifty camera-monitored intersections saw a five-percent increase in accidents. The city used its own, much narrower dataset to claim a significant decrease in accidents. The city only had ten usable intersections and defined "accident" in a way that limits reporting of rear end collisions that take place farther from the intersection. Shah recrunched the numbers and found a net safety benefit of just 1.5 percent.

"The goal was not to do a comprehensive study of red light cameras, but only to ask whether the benefits of red light cameras are obvious," the study concluded. "A more comprehensive study would include control groups. In sum, our findings show that red light cameras have, at best, a marginal positive impact on accidents. It's clear that the benefits claimed by the city are hyperbole and that there is no evidence that the red light camera have had a significant safety benefit."

Because of the limitations of the available data, Shah examined the so-called "halo effect" that insurance industry first postulated in its 2001 Oxnard study and has since become the primary talking point in favor of using automated ticketing machines. According to the theory, drivers afraid of receiving tickets will improve their habits. As a result, accidents will fall at intersections throughout the city -- not just where cameras are located. In Chicago, this has demonstrably not taken place. Shah showed that from 2001 to 2008, the percentage of accidents that took place at intersections did not decrease, rather it remained steady at about 25 percent of collisions.

"This also suggests the red light cameras are not having a halo effect because accidents are not dropping throughout the city at traffic signals," the report found.

In an email to TheNewspaper, Shah explained that he became interested in looking more closely at the red light camera issue while studying the city's general surveillance camera network. The city has apparently exaggerated the effectiveness of these devices in solving and deterring crime, so Shah decided to see whether the same was true of intersection cameras.

View the study in a 250k PDF file at the source link below.