5/17/2010
Traffic Camera Company Embeds Former Spokesman At Arizona Republic
Former Redflex corporate spokesman writes Arizona Republic news article about the traffic camera company.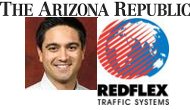 With ballot initiatives and other possible legislative action threatening to put a major photo enforcement company out of business, an effective public relations strategy has become the firm's top priority. Redflex Traffic Systems on Friday had its former corporate spokesman, Michael Ferraresi, return to writing about the industry for the Arizona Republic newspaper, which covers the battleground market of Phoenix.

Ferraresi got his start at the Republic, which has for several years has provided soft coverage of the photo enforcement industry on its news pages and unabashed support on the editorial side. TheNewspaper analyzed every Republic article that mentioned Redflex between January 2007 and 2008 and found just only three percent of the space in any article, on average, presented any kind of opposing view. Redflex liked what it saw and hired Ferraresi to be its Associate Marketing Manager. In the January 18, 2008 article "Nonstop growth helps traffic company accelerate," Republic reporter Jane Larson quoted then-Redflex spokesman Michael Ferraresi about the number of cameras the company had in the field. Arizona Republic editors ignored requests for comment when asked at the time whether it was ethical for the paper to quote a former reporter as a source.

Mark Obbie, associate professor in magazine journalism at Syracuse University's Newhouse School, also told TheNewspaper in a 2008 email that, although he was unfamiliar with the details of the Ferraresi situation, he was deeply concerned over the effect of the revolving door between industry and journalism.

"Mostly it's bad for journalism -- and, more important, for the public," Obbie wrote. "Those same personal ties that can prove helpful can also inhibit honest reporting. Reporters have a harder time hammering a friend and former coworker. Even more insidious is the effect this revolving door has on beat reporters who may harbor hopes of cashing in some day with a move inside the corporation. What more reason does a reporter need to pull punches, and effectively perform PR while still on the newspaper's payroll?"

Since that email, Ferraresi made one more revolution back through the door to the Republic. Ferraresi's latest article was the first to mention Redflex since his return.

"As state leaders slammed the brakes on Arizona's freeway photo speed-enforcement program, Phoenix police said they continue to see the safety benefits of photo radar and red-light cameras," Ferraresi's May 14 article began.

The article presented only the views of the Phoenix police and a pro-camera advocacy group. Before the Ferraresi hire, Redflex efforts at newspapers were limited to paid campaigns to generate letters to the editor that create the illusion of public support for automated enforcement.

"In Illinois a firm was engaged to manage the media interface, develop an advocacy to write letters to the editor, blog on a micro-site about street safety, and be ready to testify in committee hearings," Redflex explained in a February 25 release to Australian investors. "This has led to positive news coverage and citizen support."