6/18/2009
Texas Police Chief Fired for Questioning Red Light Cameras
Former police chief sues College Station, Texas after being fired for opposing revenue raising with traffic cameras.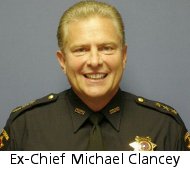 Questioning the wisdom of photo enforcement can be fatal to the career of a top law enforcement official. Former Texas police Chief Michael Clancey found this out the hard way when he dared to suggest that the College Station City Council should not use red light cameras as a budgetary tool. Clancey filed a lawsuit in federal court last month demanding punitive damages and back wages from the city which, he claimed, violated his First Amendment rights.

"When the city first considered implementing red light cameras, the program was justified as a revenue-generating program, and was listed for public discussion and comment on the city council docket," Clancey's lawsuit explained. "Clancey voiced his opposition to the description of the program, explaining that he believed the red light project should be based upon concerns for public safety. This matter was not raised by Clancey in his official capacity. Rather, Clancey expressed his opinion as a citizen of College Station."

In retaliation, City Manager Glenn Brown and Assistant City Manager Kathy Merrill gave Clancey a sharply negative performance review.

"Mr Brown and Ms Merrill failed to provide any details for how Clancey could improve his performance," the lawsuit claimed. "Rather, Clancey was simply told to improve his performance by November 1, or he would be subject to termination, and provided no direction that would allow him to meet management's expectations."

Clancey claimed that he never had a chance to defend himself to city officials before he was given the choice of resigning or being fired on October 26, 2007. Clancey chose to cite "family reasons" and resign.

Clancey's dilemma sheds light on the difference in opinion regarding photo ticketing in the law enforcement community. Top brass, represented by the International Association of Chiefs of Police, not only endorse the use of red light cameras and speed cameras, the organization makes money from "certification" of the devices. On the other hand, officers in the field tend to oppose automated ticketing machines. The Phoenix Law Enforcement Association, for example, represents over 2600 police officers in Phoenix, Arizona. The group recently testified against the state's photo radar program.

Clancey started his law enforcement career thirty years ago in Alexandria, Virginia where he rose from beat cop to captain before taking the job of chief in Westerville, Ohio in 1999. Clancey took the higher-profile College Station job in 2005. The crime rate dropped sixteen percent during his tenure. For its part, College Station officials released an internal affairs report attacking Clancey for his involvement in the cancellation of a "failure to obey a police officer" ticket issued by a rookie officer on October 9, 2007 to the daughter of a police lieutenant. The report was finalized after Clancey was forced to quit.

A copy of Clancey's lawsuit is available in a 400k PDF file at the source link below.