5/14/2009
Tennessee Appeals Court Reiterates Its Support for Red Light Cameras
Tennessee Court of Appeals issues a second opinion affirming its support for red light camera ticketing.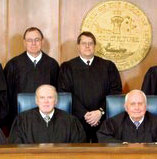 The Tennessee Court of Appeals reiterated yesterday that constitutional protections do not apply to anyone mailed a red light camera citation. In a three-page decision, a three-judge panel unanimously rejected the challenge mounted by Joshua D. Kimsey, the recipient of a $50 ticket from the Australian company, Redflex Traffic Systems. Redflex accused Kimsey of a violation that took place in Knoxville, but Kimsey refused to pay the fine and instead filed motions to have the case transferred to a criminal court. A municipal court denied the motions. A circuit judge declared the photo ticket a valid "quasi-civil matter." The appeals court agreed, summarily dismissing the idea that all constitutional guarantees should apply to photo tickets.

"The (state) supreme court and this court have previously held that actions based on a violation of a city ordinance are civil in nature for the purposes of appeal/procedure," Judge Herschel Pickens Franks wrote for the court. "Thus, the trial court properly denied defendant's motion seeking to have the Rules of Criminal Procedure apply to this action."

The appeals panel referred to last year's Brown decision (view opinion) in which the judges ruled that the legislature had effectively given retroactive authority to municipalities to issue civil fines that sidestep the sort of criminal code provisions that would have made prosecutions more expensive. After a fine is declared a civil matter, the municipality can presume the guilt of vehicle owners for red light and speed offenses and deny attempts to move a case to a venue where the burden of proof is 'beyond a reasonable doubt.'

"Defendant also argues the trial court should have transferred this action to the criminal division, but as explained, these actions are considered civil in nature, and defendant's precise issues regarding due process were addressed by this court in Brown," Franks wrote. "The record does not show that defendant's constitutional rights were infringed, and the issues raised are without merit."

The court finally decided that Redflex does not exercise a police power in taking photographs, mailing citations and collecting fines. The court reviewed Knoxville's contract and asserted that because a Knoxville police officer has the capability of clicking a button to "review" all of the citations generated by Redflex that the city has "plenary power" to decide who to cite. The court having exhausted Kimsey's arguments ordered him to pay the costs of the appeal.

A copy of the decision is available in a 270k PDF file at the source link below.