10/6/2008
Texas Becomes Roadblock Battleground
Interest groups battle over roadblocks ahead of the 2009 Texas legislative session.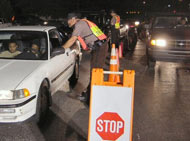 Interest groups are pressuring Texas lawmakers to authorize the use of roadblocks ahead of their return for the 2009 legislative session. The practice of setting up barricades on roads to stop and interrogate motorists suspected of no wrongdoing has been unlawful since a 1994 state appeals court decision ruled that a "politically accountable governing body at the state level" must first approve their use. Now Texas Attorney General Greg Abbott has scheduled an October 23 deadline for briefs to decide the Texas Public Safety Commission's request to bypass this requirement and approve roadblocks on its own authority.

Texas is one of fewer than a dozen states that currently prohibit warrantless searches of motorists. For that reason, the new president of Mothers Against Drunk Driving (MADD), Laura Dean-Mooney, made convincing the Texas legislature of the need for roadblocks a high priority for her organization.

"I have a special place in my heart for Texas," Mooney said upon taking the top job in July. "But so much more must be done. Passing interlocks for all drunk driving offenders and sobriety checkpoints to deter drunk driving would be a great start."

MADD came close to a legislative victory in April 2007 when the state Senate voted unanimously to establish the waterborne equivalent of a roadblock. The proposed "boating safety checkpoints" would have allowed police to pull over and question all recreational boaters on lakes within the state. The legislation would also have given police the discretion to use force to take a boater's blood to determine sobriety. The measure died when the state House declined to act on the bill.

The alcoholic beverage industry feels threatened by the chilling effect such draconian measures would have on sales of beer and wine at restaurants.

"By calling for roadblocks and mandating breathalyzers for first time offenders, regardless of their BAC level, MADD is ignoring the root cause of today's drunk driving problem -- hard core alcohol abusers," American Beverage Institute Managing Director Sarah Longwell said. "Because they are highly visible by design and publicized in advance, roadblocks are all too easily avoided by the chronic alcohol abusers who comprise the core of today's drunk driving problem. That leaves adults who enjoyed a glass of wine with dinner, a beer at a ball game, or a champagne toast at a wedding to be harassed at checkpoints."

The possibility of innocent drivers being arrested at such checkpoints is increased by a state police policy that gives troopers an incentive to accuse motorists of drunk driving. In a June meeting of the Public Safety Commission, a twenty-seven year veteran of the state police testified about drunk driving (DWI) arrest quotas.

"Also, my second item, some of the troopers that have earned vacation and putting in requests for vacation are being told that their vacation request will not be considered unless they are getting a certain amount of DWIs," retired Trooper Coy Lorance testified.

The commission responded by attempting to get around the prohibition on drunk driving roadblocks by referring to them as "license checks." The group put in the request to the attorney general last month after receiving an inconvenient response from the state police chief.

"Mr. Chairman, you had asked at the meeting prior to... prepare a document that would relate the legal responses to conducting driver's license, registration, and insurance checkpoints," Department of Public Safety Director Thomas Davis testified in June. "I think it's the recommendation of general counsel that without the authority being granted by a governance is that we're not able to do that legally."

In a 2005 decision, the Pennsylvania Supreme Court found that 99.29 percent of drivers stopped at state roadblocks were innocent. The results also showed that it took 53 percent more effort to make an arrest with a roadblock than to use traditional roving patrol techniques. Nonetheless, the court upheld the validity of roadblocks (view ruling).

The request letter sent to the attorney general is available in a 170k PDF file at the source link below.