8/23/2008
Grim Financial Outlook for Toll Roads
Fitch Ratings delivers a negative credit outlook for toll roads.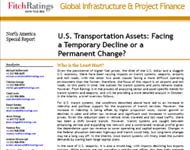 A major credit rating agency on Wednesday warned investors that toll roads no longer make a great investment choice. In a special report entitled "U.S. Transportation Assets: Facing a Temporary Decline or a Permanent Change?" Fitch Ratings cautioned that a number of economic factors challenge the creditworthiness of tolling projects, including the current state of fuel prices, currency exchange rates and sluggish economic growth. In its report, Fitch changed the outlook on toll roads to "Negative" after having issued an outlook of "Stable" as recently as March.

"Facilities in Southern California are down more than 10 percent, with revenues down to a lesser degree given toll increases that were put into place before the crisis began," the report explained. "Facilities in Florida are also showing signs of stress, with some facilities exhibiting traffic declines for the first time in more than 10 years. Facilities in Texas appear to be a bright spot, with year-on-year reductions of less than 5 percent, which is half of what most other facilities in the Northeast, Midwest, Southeast and the West are experiencing to date. In addition, the reductions appear to be impacting standalone facilities the most, with June year-on-year reductions approaching nearly 9 percent, while turnpikes, expressway systems and bridge systems are showing declines of 7 percent, 3 percent, and 5 percent, respectively."

Recognizing that each road has its own unique economic circumstances, Fitch will examine each individual facility and revise credit outlooks accordingly. The report saw few alternatives for toll road operators beyond delaying capital improvement projects and hiking tolls on motorists to maintain profitability. The company will monitor which step each road facility takes in the upcoming months.

"Small but frequent toll increases will likely be necessary over the next several years to maintain credit quality if current conditions persist," the report explained. "Fitch's ratings for airports and toll roads reflect the relative ability of each credit to deal with some volatility in revenue and the expectation that management will take appropriate actions to deal with such developments."

Although fuel prices have stabilized recently, Fitch notes that the lag effect of fuel costs on commodities means that the conditions could remain for at least one to two years.