5/21/2008
California Senate Votes to Allow GPS on Windshield
California lawmakers vote to stop police from ticketing motorists for using windshield-mounted GPS units.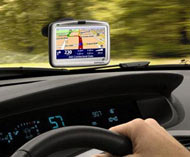 The California state Senate voted 38-1 last Thursday to legalize the use of portable GPS navigation units in automobiles. Under current law, police can pull over and ticket motorists who have anything mounted on the windshield not authorized by the state. GPS-using motorists stung by expensive "obstructed view" citations are often unaware that using a device specifically designed for in-car use could be illegal. To date, California has only carved out exemptions for the use of window tint, toll road transponders and stickers used to remind motorists of an upcoming oil change.

Senate Bill 1567 would add an exemption for the use of a seven-inch GPS screen mounted on in the lower corner of the passenger-side windshield or a five-inch screen on the driver's side. According to the bill, the device may be installed, "if the system is used only for door-to-door navigation while the motor vehicle is being operated and outside of an airbag deployment zone."

State Senator Jenny Oropeza (D-Long Beach) led the effort to update the state's vehicle code. Her bill has earned endorsements from the California Motor Car Dealers Association and the California Space Authority, a non-profit group that represents the state's $22 billion satellite industry. The bill now heads to the state Assembly for consideration and its text is available in a 150k PDF file at the source link below.