5/1/2008
UK: London Congestion Tax Increased Pollution
New research shows that congestion pricing in London, UK had a slightly harmful effect on air quality.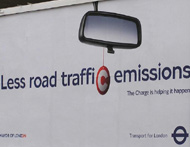 According to billboards scattered across London, the congestion tax is helping to improve the city's air quality. Recent experiments by an environmental health researcher at King's College, London show that the charge has produced no measurable air quality benefit. Professor Frank J. Kelly delivered the results to the Health Effects Institute (HEI) Annual Conference in Philadelphia, Pennsylvania on Sunday.

"Analysis suggested that the implementation of the Congestion Charging Scheme did not lead to a change in roadside measurements of oxides of nitrogen (NOx, NO and NO2) during the hours of operation of the CCS," Kelly concluded. "There was also no evidence to suggest that background concentrations of NOx measured during the scheme's operation had changed as a result of its implementation. Evidence was however obtained which suggested that background concentrations of NO and NO2 increased slightly within the zone."

Professor Kelly took readings from two years before and two years after the introduction of the tax and compared them to measurements from control sites located far from the charging zone. The effort was part of the HEI "accountability research program" designed to test the real-life effects of government regulations on air quality.

Although based on limited data, the results suggest that some pollutants -- for example, metals commonly found in brake pad dust -- may have declined within the charging zone. Others have increased because of London's emphasis on boosting mass transit.

"[There was] an increase in primary NO2 emissions arising from the introduction of particle traps on diesel buses as part of associated improvements in public transport."

Transport for London (TfL) and Mayor Ken Livingstone introduced the charge by promising air quality improvements and a reduction in traffic jams. Neither has materialized.

"Congestion Charging has led to reduced traffic levels and pollution, shorter journey times and better air quality," the TfL website states.

Studies also show that congestion in the charging zone is now higher than it was before the tax was imposed. Professor Kelly has as second study in the works examining hospital records to determine the precise health impact of the Low Emission Zone introduced on February 4.