3/10/2008
Philadelphia, PA: Most Parking Meters are Uncertified
Motorists can park for free at more than twelve thousand uncertified meters in Philadelphia, Pennsylvania.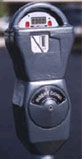 Motorists in Philadelphia, Pennsylvania can park for free at nine out of ten city parking meters. A KYW-TV investigation found that just 2000 of the 14,500 parking meters in the city meet state certification requirements. As a result, tickets issued at those meters are unenforceable. A successful court challenge three years ago confirmed that tickets issued at parking meters that have not been inspected and certified by an official inspector within three years are invalid.

"There's no way possible for us to handle all those meters," Philadelphia Licenses and Inspections Deputy Commissioner Dominic Verdi told KYW. "That would not be a priority to us.... We have X amount of people, we have to prioritize. What would be more beneficial to the consumer."

In 2005, cities across the state scrambled to obtain certifications for their parking meters to comply with state law. So far, Philadelphia has not followed suit. Instead, the city will continue to ticket motorists who park at an uncertified meters, even though the tickets cannot withstand a legal challenge.

"Once the city starts to get hit in their revenue I'm sure that the meters will be certified and as a result of that be more accurate," attorney Chuck Pascal told KYW.

Pascal also said he may consider a class action lawsuit to force the city to abide by the certification law. Philadelphia maintains that it does not to do so as its electronic parking meters are accurate.

"When a citizen registers a complaint involving a meter it is fully investigated and, if the meter is found to be defective, the ticket is canceled and the meter repaired or replaced," a Philadelphia Parking Authority statement said.

View a list of meters verified in the past three years in a 145k PDF file on the KYW website. Tickets may be lawfully issued at these intersections and any others certified in 2008.