2/6/2008
Texas: Senate Committee Grills State TxDOT on Toll Roads
A Texas state legislature committee hearing grilled Texas Department of Transportation officials over toll roads.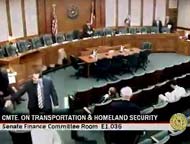 Members of the Texas state legislature yesterday grilled state department of transportation (TxDOT) officials over the agency's enthusiastic support of toll roads. The Texas Legislative Study Committee on Private Participation in Toll Projects heard from TxDOT Executive Director Amadeo Saenz Jr and other tolling advocates. Opponents seized upon evidence brought out in the hearing to point out that TxDOT has been "crying wolf" in its effort to promote tolling.

"In recent months TxDOT has continued to shut down road projects all across the state -- if they are not toll roads -- saying that they've run out of money," Texas Toll Party founder Sal Costello explained.

Saenz admitted that the agency had never really been out of money but had made a $1 billion accounting mistake. Committee members pointed out that the legislature had given TxDOT an extra $7.5 billion over its last two-year budget allocation. In marketing materials, TxDOT cited budgetary pressure as the reason it had to convert existing freeways into toll roads.

"Market forces" were harnessed by toll roads, Saenz asserted. The agency head then denied that contract provisions designed to discourage improvement of nearby free roads were anti-competitive, saying that phrase "non-compete clause" was "an overused business term."

"This non-compete clause does not prevent any nearby projects from ever being built," Saenz explained. "The clause merely sets forth the requirement that if a non-exempt facility is built, then compensation will be made."

Lawmakers suggested that the state auditor should look into the accounting irregularities in TxDOT's finances.