1/23/2008
New Jersey: Public Opposition to Toll Roads Leads to Arrest
Former elected local officials are arrested for opposing toll road plans at a public town hall meeting attended by the New Jersey governor.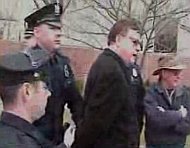 Middle Township, New Jersey Police arrested two motorists on Saturday for speaking out at a public town hall meeting against Governor Jon S. Corzine's plans to increase the use of tolling in the Garden State. Former Bogota Mayor Steve Lonegan had been standing calmly outside of Middle Township High School dressed in a suit and winter coat. He was surrounded by a handful of sign and pamphlet-wielding toll road opponents belonging to the group Liberty and Prosperity when a local official attempted to convince Lonegan to leave prior to the governor's arrival.

"It's not public property, it's board of education property," the local school board administrator explained. "You're going to have to leave the property."

The administrator walked away when Lonegan said that they had a right to protest a public meeting peacefully and that he wanted to see the board's written policy on the matter. A dozen police officers then insisted that Lonegan move at least one-quarter mile from the school. When Lonegan replied: "Nope," he was handcuffed and placed under arrest. Former Atlantic City Councilman Seth Grossman was likewise arrested for being among those holding signs that read: "No Toll Hikes!!! Repudiate Unconstitutional Debt!"

"I didn't go to Middle Township High School last Saturday to get arrested or to get on TV," Grossman explained. "I didn't even go to protest. Our Liberty and Prosperity group went there to participate in Governor Jon Corzine's town meeting."

Police charged both of the former elected officials with trespassing. The governor's office had described the town hall meetings as "part of the governor's effort to have an open and honest discussion about the state's financial problems in all of New Jersey's 21 counties."

Grossman had been distributing fact sheets that questioned Corzine's statement that taxpayers owed $113 billion in long-term obligations that could only be paid down with asset monetization and toll road price hikes. Grossman's materials claimed that under state law, taxpayers are only on the hook for debts specifically approved by voters, which amounts to just $3 billion.

View video of the arrest from YouTube.