10/29/2007
Maryland: Daylight Saving Time Creates Bogus Parking Tickets
Baltimore, Maryland issues tickets to legally parked motorists after smart parking meters implement daylight saving time a week early.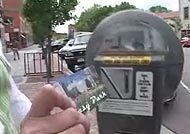 Baltimore, Maryland's new smart parking meters caused several legally parked motorists to receive parking tickets yesterday. The "Easy Park" meters had not been updated to recognize that daylight saving time will not arrive until next week. As a result, the clocks were off by an hour on Sunday when city meter maids, instead of taking a day of rest, collect money from areas frequented by tourists. Eventually, the city reprogrammed the parking meters remotely and fixed the fault, the Baltimore Sun reported.

It has been a rough month for the Baltimore Parking Authority. A series of stories in the Examiner newspaper uncovered bogus parking citations being issued to residents of a specific neighborhood blocks. A graduate student who received a ticket figured out that a meter maid was typing the license plates of legally parked cars into the system and mailing out tickets. The city's inspector general was forced to launch an investigation. A number of motorists who had bogus tickets canceled after taking time off work to fight are nonetheless receiving collection notices from the city.

In August, Baltimore's new parking meters caused additional problems by accepting electronic payment from motorists during times when parking was not allowed. This caused many unsuspecting motorists to receive expensive tickets when they presumed the "smart" machine would properly interpret the confusing array of signs and rules posted. Baltimore relies on the issuance of 320,000 parking tickets a year to generate $13 million in revenue.