5/9/2007
Stop Sign Ticket Cameras Developed
New stop sign cameras will issue automated tickets for boulevard stops.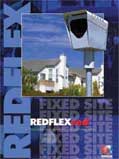 Another type of automated ticketing machine is being added to the photo enforcement arsenal alongside red light cameras and speed cameras. Australian photo enforcement vendor Redflex yesterday officially announced it had developed a first-of-its-kind machine designed to issue tickets for what some refer to as a Boulevard Stop or a California Stop. This is the practice of slowing to a crawl, without ceasing all forward motion, at a stop sign when there is no traffic around.

Appropriately enough, the new ticketing technology is to be installed in Los Angeles, California by the Mountains Recreation and Conservation Authority (MRCA), as first reported by TheNewspaper last month.

"We are truly honored to work with MRCA on implementation of this revolutionary solution that is new to the US market," Karen Finley, head of US operations for Redflex, said in a statement.

The stop sign devices are based on red light camera platforms, but they differ greatly in use. The more familiar stoplight cameras typically photograph a vehicle entering an intersection if a signal light changes to red as little as 0.1 seconds after the car crosses the stop bar line. In most cases, the resulting ticket photograph will show both the vehicle in the intersection and a visible red light, offering visual documentation of the technical violation. With the new Redflex stop sign cameras, a machine will make calculations to determine whether a vehicle did not come to a complete stop and deserves a ticket.

California law says nothing more than that motorists are expected to come to a full stop at a stop sign, regardless of the lack of traffic on the roads.

"The driver of any vehicle approaching a stop sign at the entrance to... an intersection... shall stop at a limit line, if marked, otherwise before entering the crosswalk on the near side of the intersection." (Vehicle Code section 22450a)

But California law also forbids the practice of paying a per-ticket bounty on citations and the use of photo radar in the state (Vehicle Code section 21455). According to the Redflex contract with MRCA (view contract), the company will keep $20 from every ticket it is able to issue. It will also set up several speed cameras.

The launch date for the new system has yet to be announced.