3/6/2007
DC Parking Auditor Documents ACS Mismanagement
The Washington, DC city auditor documents overcharging and bogus tickets issued by a parking contractor.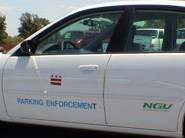 A report released February 22 by the Washington, DC city auditor documented the mismanagement of a for-hire contract to issue parking tickets in the nation's capital. The District's choice of Affiliated Computer Services (ACS) to run meter maid operations delivered $8,823,447 less revenue and a twenty-fold increase in complaints from the public.

"The District government experienced a severe financial crisis," the audit stated in explaining the purpose in hiring ACS. "In response to the growing concerns regarding the decline in parking meter revenue, on February 2, 1998, Department of Public Works entered into a $24,991,000 seven-year seven-month privatization contract with Lockheed Martin IMS Corporation, now Affiliated Computer Services (ACS) to provide new parking meters and to manage the District's parking meter services."

Among the findings were that ACS was overcounting the number of meters, and charging accordingly. ACS claimed 1906 were in use, but the audit showed 1236 -- "the remaining 670 meters, or 35 percent, were missing and could not be accounted for by ACS or DDOT," the report explained. Of the meters that were present, 65 percent were defaced, damaged or inoperable. Only 232 meters were in proper working condition. ACS also pocketed $644,952 in fees for parking meters that had been "bagged" while streets were under construction or turned off for private functions, in violation of the city's contract.

The audit also blamed ACS for improperly issuing 6888 tickets to motorists parked at busted parking meters to generate $159,975 in revenue. The frequency of such mistakes was reflected in the increase in the number of complaints. When the city ran the meter maid program, annual complaints averaged less than 4000. In 2005, 89,840 complaints were lodged against parking services.

Between 1999 and 2005, the District collected $89,022,302 in parking meter revenue. Of this, ACS kept $26,434,192. Emeka Moneme, Acting Director of the District Department of Transportation suggested a new means of increasing revenue by the use of new "pay and display" style electronic parking meters to overcharge motorists.

"We expect that expanded use of the Multi-Space meters under the new contract will enhance revenue generation, since there is no potential for uses to take advantage of time left on a meter from a previous occupant," Moneme wrote in a letter to the auditor. "Credit cards are accepted and those who use cards tend to put the full amount on the card rather than twenty-five cents at a time."

ACS has faced several fraud investigations in the past year. Two police officers in Edmonton, Canada are currently on trial for accepting bribes from ACS and the company's CEO and CFO stepped down last year after admitting to $51 million in stock fraud.

A full copy of the audit is available in a 3mb PDF file at the source link below.