3/1/2007
Toll Transponder Inaccuracy is Widespread
In California, Florida, Maryland and Texas toll transponders are overcharging motorists.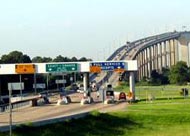 Toll roads around the country are overcharging drivers who use transponders that automatically deduct funds from a credit card account. Often, they will not even know this is happening. For example, the Harris County, Texas Toll Road Authority admitted yesterday that its use of an automatic vehicle classification device designed to catch "toll cheats" was instead cheating law-abiding motorists.

"It was sold to the Toll Road Authority with a promise it would be 99.8 percent accurate," an authority press release explained. "In fact, audits have found Harris County Toll Road Authority's does slightly better. It's 99.98 percent accurate."

With 335,236,106 individual tolls collected in 2006, even that apparently low error rate ends up charging 67,047 EZ Tag users as much as seven times the proper amount for a single journey.

"No technology is perfect," toll road Director Mike Stretch explained.

On Saturday Harris County stopped using the device following inquiries from television station KTRK which uncovered the local problem. Throughout the rest of the country, however, the overcharging is common. In 2005, the Bay Area, California Toll Road Authority admitted its own "anti-toll cheat" system brought at least 600 complaints from FasTrak users charged $12.50 for a $3 journey. Last week, the Florida Turnpike admitted 30,000 SunPass users had been overcharged.

Other problems include massive fees of up to $93,000 imposed on motorists whose transponder credit card accounts expire. Sixteen FasTrak users in Orange County, California are suing over $335,000 in excessive fees. Central Florida toll officials admitted there were technical problems with a "anti-toll cheat" cameras, with dozens of innocent motorists forced to pay an $85 fine. Thousands of Fast Lane and E-ZPass customers in Massachusetts and New Hampshire may have been improperly billed because ticket cameras can not accomodate the states' practice of allowing the same numbers to appear on different types of specialty license plates.

The consequences of these errors can be quite expensive and serious. An E-ZPass user in Maryland was accused of not paying a toll charge that financial records prove he did pay. The Maryland Transportation Authority responded by threatening to suspend his automobile registration.