1/16/2007
Virginia Appeals Court Overturns Parking Tickets for Expired Inspection
Virginia Court of Appeals ruling outlaws parking tickets for expired inspection stickers.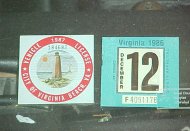 Millions of dollars worth of parking tickets were illegally issued throughout the commonwealth of Virginia for more than four decades, according to a December ruling of the Virginia Court of Appeals. The case overruled a Prince William County ordinance that allowed police to issue citations to parked vehicles with an expired inspection sticker, even when in a private lot.

The case began more than six years ago as Robert W. Eberth's personal crusade against the ordinance. He was ticketed several times and had his cases dismissed until an August 25, 2004 citation challenge made its way to the state's second highest court. Eberth argued that state law says one cannot operate a vehicle on a "public highway" without a valid sticker, and that the county had no legislative authority designate an apartment complex lot as a "highway."

"We agree with Eberth," the court wrote. "To the extent that County Code Sec. 13-277(a) vests law enforcement officers with the authority to enforce its parking regulations in the private parking lot of an apartment complex such as the one at issue in this case, we hold that the ordinance is invalid and unenforceable."

Eberth further argued that he was not "operating" the vehicle because it was parked.

"We agree with Eberth on this issue as well," the court wrote. "In this case, the county has prohibited the 'parking' of an uninspected motor vehicle on a public highway, whereas the General Assembly has merely prohibited the 'operation' of such vehicle on a public highway. We can find no statutory authority authorizing the county to take such action and the county offers none."

According to the Washington Post, Prince William County has issued 29,871 parking tickets under the illegal ordinance since 2000, collecting more than $1 million in fines. The ordinance has been in effect for 42 years and similar ordinances are in use across the state. Prince William County officials refuse to offer refunds to those wrongly charged.

The full text of the ruling is available in a 29k PDF file at the source link below.