10/2/2006
Massachusetts: Appealing Parking Tickets Made Impossible
Framingham, Massachusetts resident learns she has to pay $330 to receive an independent hearing on a $200 parking ticket.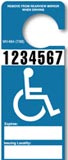 For many Massachusetts residents, it's practically impossible to appeal a parking ticket before an independent judge. Framingham resident Deborah Adcock learned this the hard way when the city charged her $200 for parking in a handicapped space. Adcock suffers from a debilitating condition known as fibromyalgia and has a valid handicapped parking permit. On August 22, she neglected to flip down her visor to make the permit visible.

Adcock mailed her appeal to the city which was denied by the hearing officer Allan Nardini. Nardini is a former Framingham Police captain, he still reports his hours to the police department and he is paid by the city.

"It's infuriating to me that there is no common sense on the part of the hearing officer," Adcock told the MetroWest Daily News. "He knows what I'll have to go through. To me it's astonishing and I'm flabbergasted and shocked."

Hearing officers know that they can dismiss appeals without reading them because ticket recipients have no realistic means of challenging their decision. To fight the $200 ticket before an impartial judge, Adcock learned she had to pay a non-refundable $275 fee to the Middlesex Superior Court in Cambridge, plus $25-55 in other fees. She decided not to appeal and, so far, not to pay the fine.