5/15/2006
Cleveland, Ohio Motorists Ignore Speed Camera Tickets
Speed cameras have succeeded in bringing in millions in revenue to Cleveland, Ohio but half of tickets go unpaid.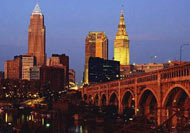 Former Mayor Jane Campbell introduced red light and speed cameras to Cleveland, Ohio last year as a means of closing a $3.6 million budget gap, estimating the program would make $6.5 million. Just five months into the program now, the cameras have issued $4.7 million in tickets -- but many remain unpaid.

To date, the city and private vendor ACS have mailed out 26,000 speed camera tickets worth between $100 and $200 each, while red light cameras have only generated $55,600 in citations. Red light cameras have not yet been fully deployed at all thirty of the planned intersections. Three-quarters of the camera tickets go to motorists who live in the suburbs and have no representation on the city council. Human police officers have generated an additional $2.4 million in revenue with conventional red light and speeding tickets.

About half of the camera ticket recipients, however, have chosen not to pay their citations as legal challenges underway may only cancel the fines of those who rejected the system as illegal.

Attorney Brian P. Kish is seeking refunds for everyone who has received a ticket -- paid or not -- and wants to strike down the program because the city "lacks any jurisdiction to operate the automated system." In particular, he charges that running photo radar tickets through the Cleveland Parking Violations Bureau is in direct violation of state law. "By definition and by the express language of O.R.C. 4521.05, parking violations bureaus only have jurisdiction over 'parking infractions,'" Kish told TheNewspaper. Cleveland has responded by threatening to seize the cars belonging to anyone who refuses to pay four of the tickets.

In March, a judge agreed with attorney Gary M. Stern that Steubenville violated Ohio law with its camera program. The judge ordered the city to cancel all unpaid citations and refund 3000-4000 illegal tickets already paid.