3/8/2006
Geico Overcharges the Uneducated Nationwide
Geico is charging 40 percent more nationwide to insure those with blue collar jobs and less formal education.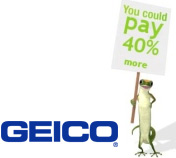 The nation's fourth largest automobile insurance company, Geico, charges a janitor with a high school diploma an average of forty percent more for car insurance than it charges a college-educated attorney. New Jersey Assemblyman Neil M. Cohen (D) introduced legislation yesterday to abolish the practice after stories appeared describing its effect on Garden State motorists. The rating method, however, is not limited to New Jersey. It is used in forty-three states with the nation's other top insurance companies under competitive pressure to adopt the same practice nationwide.

TheNewspaper examined Geico policies covering a 30-year-old male with a perfect driving record in Louisiana. By changing only the level of education in the online price quote system, we found a graduate of a four-year college paid $823 for insurance compared with the $1088 rate for having only a high school diploma or associates degree -- nearly a third more.

In California, we also found that one's job description played a significant role in the price paid. Again holding all of the variables constant, this time we changed the job description for each price quote. We found that an executive would pay $1054 for insurance, a technician $1182 and a clerk $1398 -- again, nearly a third more. By manipulating both the education and job status variables in Louisiana, one could pay in extreme circumstances 124 percent more.

Eric S. Poe, vice president of New Jersey Citizens United Reciprocal Exchange suggests there is no correlation between education or occupation and the likelihood of an individual getting in an accident.

"The insurance industry is not concerned about whether you will have an accident or not," Poe said. "They are concerned as to whether you will want to be compensated for that accident."

Poe works for a not-for-profit insurance provider that does not want to adopt Geico's scoring tactics to compete in the New Jersey market. He sees it as a thinly veiled means of avoiding state and federal restrictions on insurance scoring based upon race and income. He also sees it as a means of generating an accurate list of names for marketing purposes.

"Get the names of these rich individuals and sell them homeowners [insurance]," Poe said. "The most valuable list that anyone can sell is a list that is factual on affluent people."

Such marketing is key to Geico's success. Most people know of the company through its familiar advertising campaign. With $502 million spent on ads last year, Geico became the number one advertiser in the country. "And I can't wait to spend more," Geico parent company Berkshire Hathaway's chairman Warren Buffett wrote in a letter to shareholders.

The chart shows a sample of the different rates charged to white collar and blue collar employees in forty-three states.

Article Excerpt:

State/City

White Collar
Cost
Blue Collar
Cost
Increase
Alabama
Tuscaloosa
$485
$550
13%
Alaska
Anchorage
0%
Arizona
Tempe
$569
$669
18%
Arkansas
Little Rock
$612
$756
23%
California
Los Angeles
$1,326
$1,754
32%
Colorado
Denver
$844
$1,125
33%
Connecticut
Hartford
$698
$924
32%
Delaware
Newark
$605
$807
33%
Florida
Miami
$730
$842
15%
Georgia
Atlanta
$1,005
$1,611
60%
Hawaii
Honolulu
$445
$834
87%
Idaho
Aberdeen
$448
$504
12%
Illinois
Chicago
$557
$619
11%
Indiana
Indianapolis
0%
Iowa
Iowa City
$395
$494
25%
Kansas
Kansas City
0%
Kentucky
Lexington
$595
$661
11%
Louisiana
New Orleans
$1,080
$2,426
125%
Maine
Portland
$401
$471
18%
Maryland
Baltimore
$859
$1,144
33%
Massachusetts
Boston
n/a
Michigan
Detroit
$1,845
$3,540
92%
Minnesota
St. Paul
$538
$826
54%
Mississippi
Biloxi
$547
$729
33%
Missouri
St. Louis
$517
$649
26%
Montana
Adler
$604
$1,161
92%
Nebraska
Omaha
$398
$569
43%
Nevada
Las Vegas
$729
$1,289
77%
New Hampshire
Concord
$819
$1,024
25%
New Jersey
Princeton
$456
$604
32%
New Mexico
Belen
$511
$638
25%
New York
New York
0%
North Carolina
Advance
$341
$394
16%
North Dakota
Grand Forks
$505
$594
18%
Ohio
Cleveland
$355
$507
43%
Oklahoma
Achille
$720
$800
11%
Oregon
Carvallis
$455
$536
18%
Pennsylvania
Philadelphia
$541
$636
18%
Rhode Island
Adamsville
$547
$613
12%
South Dakota
Alcester
$429
$611
42%
South Carolina
Alcolu
$543
$611
13%
Tennessee
Nashville
0%
Texas
Houston
$613
$875
43%
Utah
Salt Lake City
$423
$563
33%
Vermont
Wilmington
$192
$246
28%
Virginia
Fairfax
0%
Washington
Seattle
$610
$1,041
71%
West Virginia
Morgantown
$574
$765
33%
Wisconsin
Milwaukee
$436
$544
25%
Wyoming
Bosler
$402
$574
43%
Washington D.C.

$590
$708
20%
National Average
40%


Source: NJ CURE. "White Collar" represents a President with Law Degree. "Blue Collar" represents a Custodian/Janitor with High School Diploma. Rates are based on a 25 year old single male with 50/100/25 coverage and a $500 deductible for Comp/Coll for a 2006 Ford Taurus LX. Minor variables may have changed from state to state such as PIP coverage limits, and if they were chosen it was always the default selection on GEICO.com, but for each example the selection was consistent for comparison purposes.