6/29/2005
Virginia Beach to Remove Red Light Cameras Friday
Red light camera plug to be pulled after only a few months of operation in Virginia Beach, Virginia.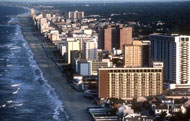 Officials in Virginia Beach, Virginia are preparing to shut down their red light camera program this Friday, even though it has been operational for less than a year. Virginia law will not allow the devices after July 1. The Virginia legislature adjourned in April after refusing to renew the law authorizing camera enforcement within the state.

Since the first $50 ticket was issued in September 2004, Virginia Beach's set of four cameras have generated $750,000 in revenue from a total of 15,000 tickets issued through April. The fourth camera has only been operational since January.

According to police who checked the safety performance of the devices only once before a legislative hearing, rear-end collisions at the intersection of Holland and Rosemont increased from two to three in a four month period. This result is consistent with several studies that show an increase in accidents where cameras are used.
Article Excerpt:
Georgie Baller, who has lived in Virginia Beach since 1991, said she is glad to see the cameras go. She worried about rear-ending someone who saw the camera and decided to stop at the last minute. "I think you're going to go through it, you stop instead, and I'm going to hit you in the rear end," she said. "That makes my insurance go up, and I don't like you for that. "I just think they cause more accidents than they prevent, " she said.
Source: Last click nears for Va. Beach's red-light cameras (Virginian-Pilot, 6/29/2005)

Regional News:
Other news about Virginia Beach, Virginia



Permanent Link for this item
Return to Front Page